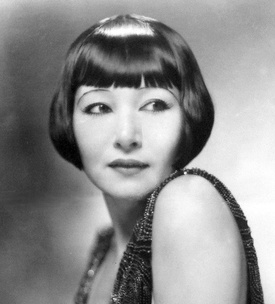 After 1940, Ruth Sato's life was transformed, and she shifted her career from showgirl to more serious pursuits. It must be said that she had always had artistic and intellectual interests.
During the 1930s, she dated writer John O'Hara, with whom she discussed literature. DownBeat magazine reported in 1939 that Sato was a "hep chick" and jazz enthusiast, who had a major record collection and knew all the members of the major swing bands. In September 1939, Sato published an odd "open letter" in DownBeat. While she rather unjustly took a fellow letter writer for anti-black bias, she insightfully pointed to the social barriers that she experienced as a "half-Japanese and half-Irish" and the positive role of jazz in breaking them down. "As for prejudice, jazz is a common means for eliminating any so-called bugaboo."
During 1941, Sato wrote a gossip column, "Could Be," for the jazz magazine Swing. At some time in this same period, she began dating William "Bill" Reinhardt, a jazz clarinetist 4 years her junior.
Sato recalled that she went through a period of unemployment with the coming of the war—she noted drily that demand for Japanese exotic dancers went way down after Pearl Harbor. She also asserted that she was followed by the FBI, because of her late father's importance to the Japanese community, and dyed her hair blonde in order to pass. Even her name was a liability.
In January 1942, popular columnist Walter Winchell, who had been a leading prewar publicist for Sato, stated facetiously that "the Eurasian entertainer (half Jap, half Yankee Doodle) will change her name to Pearl Haba." She demanded a retraction, under threat of lawsuit. Winchell published her denial the next week, but with poor grace, and after that never again mentioned her in his column.
In response to the pressure, she left New York—columnist Danton Walker proclaimed that she had disappeared from Broadway—and moved to Virginia to be with Bill Reinhardt, who had been sent there. On June 6, 1942, the two were married in Norfolk. Ruth Reinhardt (as she was henceforth known) gave differing versions of her life during the three years that followed.
In a 1948 profile, she stated that she had spent the war years restoring a seven-room farmhouse in Williamsburg, Virginia, while Bill was stationed at Peary Naval Training Station. In a later interview, she revealed that she had taken over a small farm on Florida's Gulf Coast, where she passed her time killing snakes. "I would zap 'em with Lysol. Nobody ever taught me how to use a gun. I was from New York, where anything suspicious got it with Lysol right away."
During this period, Reinhardt contributed a series of columns to DownBeat magazine which displayed her talents as music critic and comedic writer. For example, Reinhardt's column "Saxes Should Be Played Not Tossed For a Goal," in the December 15, 1943 issue, features the author's outspoken criticism of the "pseudo showmanship" of the saxophone players she watched who wrestled furiously with their instruments in playing. "One man looked like a huge mastiff tugging at a large, brass bone."
Curiously, the columns also hint at a New York connection. Not only did "Saxes" bear a New York dateline, but the September 15, 1944 issue featured Reinhardt's "Random Ramblings from Rhythm Row," a gossip column about the New York jazz scene whose items strongly suggested that the author had been spending some time in the city.
Whichever place(s) Ruth Reinhardt actually resided during the war years, once Bill Reinhardt returned to the United States and secured his discharge from the Navy, the two spouses faced the decision of where to settle and what to do. Ruth Reinhardt later stated that she considered taking over a sponge fishing business in Tarpon Springs.
In the end, the couple moved to Bill's hometown of Chicago, where they decided to try making a living out of music by opening a jazz club. Reinhardt recalled that at first, the couple were so naïve that they placed a newspaper advertisement offering a $1000 reward for information on a suitable establishment, but received no responses. Instead, Bill Reinhardt went out walking one day and found a basement space that seemed ideal. The property was located at 11 East Grand Ave. on the Near North Side—the main center of Japanese American resettlement in Chicago. The couple settled on Jazz, Ltd. as the name of their club (their lawyer vetoed the original name, "Jazz, Inc.").
Jazz, Ltd. opened in June 1947. It offered New Orleans and Chicago style Dixieland music. The music was entirely instrumental: to avoid an extra 20 percent night-club tax, the Reinhardts did not permit singing in the club. Bill led the house band, a five-piece ensemble with four regulars (notably Doc Evans) plus a special guest star.
Ruth acted as hostess, and greeted all customers personally. She also took up the role of manager and administrator, bringing to the task a hardheaded business skill and capacity for hard work: she was present in the club every night, 6 days a week, from 7 p.m. to 4 a.m. She also took up the unpleasant task of asking undesirables to leave.
As she remarked in a column in DownBeat, "I guess I have become quite a character. One drunk told me that that I should be a schoolmarm rather than a saloonkeeper. My shell is thick, and after all we are not selling me—we are selling jazz." Writing in the Chicago Tribune, columnist Savage described her as the club's guiding hand, "a combination of modified Texas Guinan [a famed speakeasy operator in 1920s New York] and implacable house dick."
From the beginning, the club offered a different experience to its patrons. To begin with, it was the first jazz club outside the African American district of Bronzeville without a color bar, and from the beginning its audiences were integrated. Conversely, the Reinhardts imposed strict rules to underline the club's status as a respectable institution: reservations were encouraged; patrons had to wait behind a velvet rope until seated; gentlemen were required to wear jackets; unaccompanied women were not admitted; and no women were served at the bar under any circumstances. The serving staff was all male.
In order to stay "clean" of racketeers, the Reinhardts refused to install jukeboxes or cigarette vending machines. Ruth Reinhardt also made use of her flair for publicity. Rather than run expensive newspaper or radio ads, the Reinhardts maintained an extensive mailing list and made use of columnists such as then-disc jockey Dave Garroway to spread the word. They shrewdly began the practice of making live recordings from the club and selling them on site, in the process gaining both money and publicity.
Jazz, Ltd, was immediately popular. It became even more in its second season, when the Reinhardts signed legendary New Orleans jazzman Sidney Bechet to an exclusive contract, and he began a residency at the club. With encouragement from Ruth Reinhardt, newspapermen began discussing Bechet in news stories and gossip items, providing extra publicity for the club.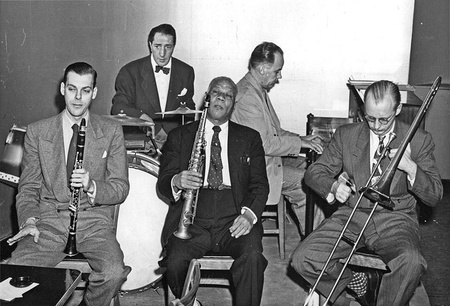 Unfortunately, the Reinhardts' relationship with the musician soon proved contentious. In May 1949 Bechet left for Europe without alerting the club owners, leaving them to scramble to fill his place. When he returned in November of that year, he pledged to return to Jazz, Ltd. However, he played an outside gig in Chicago, violating his exclusive agreement with the club, whereupon Ruth Reinhardt successfully sued him for breach of contact.
Even after Bechet's departure, Jazz, Ltd. continued to prosper. It attracted notable patrons such as writer Nelson Algren. While the club moved to a larger location in the 1960s, the Reinhardts continued to manage it closely. By the time it closed its doors in February 1972, a casualty of declining public interest in jazz, it had been open for nearly 25 years, and claimed to be the oldest traditional-jazz club in the world. Following the demise of her club, Ruth Sato Reinhardt went into retirement. She died on December 9, 1992.
Ruth Sato Reinhardt once described herself as "tone-deaf" and stated that her main interest in her club was in making money. All the same, she made an important contribution to Chicago's music scene, and provided a space for interracial contact. Her newspaper writings, though limited in number, reveal both her real passion for music and her talent as a prose stylist.