Virtual Tomodachi Gala
Virtual
Washington
United States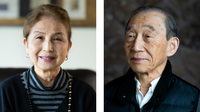 Our fourth Virtual Tomodachi Gala is almost here! The JCCCW's premier fundraising event celebrates Japanese language, culture, and heritage, connecting the community from anywhere in the world. This year's annual Tomodachi Award will be presented to husband and wife — acclaimed sushi chef Shiro Kashiba, and accomplished calligrapher Ritsuko Kashiba. The award commemorates the couple's continued cultural contribution toward Japanese and Japanese American culture in the Pacific Northwest and beyond.
The Virtual Tomodachi Gala will include two additional live streamed events. First, a raffle drawing for two-round trip tickets anywhere Alaska Airlines flies! These tickets are available for purchase by contacting the JCCCW directly. Only 200 tickets will be sold, so don't miss out on these great odds!
Next, the Gala will also stream the final bidding in an online auction for A Sushi & Shodo Experience with the Kashibas! For those interested in participating in the auction, you can register online to bid. Bidding will close during our Virtual Tomodachi Gala on June 15th which will be streamed starting from 7 pm.
GO TO THE AUCTION PAGE:
https://virtualgala.events/tomodachi-gala-2023
OTHER WAYS TO HELP:
We humbly ask for your support. Consider (1) making a donation through our website, (2) becoming a JCCCW member and (3) shopping online. Any amount goes a long way!
HOW TO PARTICIPATE:
Please go to our YouTube channel (www.youtube.com/c/JCCCWA/) and you can view the live program on Thursday, June 15, 2023, from 7:00 pm (PT)! Free to join! Donate today!

jcccwa . Last modified May 18, 2023 6:32 p.m.
---