As Los Angeles skies began to clear after the first spell of frigid March rain, a three-generation family gathering was being held to mark Ireichō, the book as monument to those incarcerated during WWII. Convening the intimate get-together was a familiar face in the Nikkei community, someone celebrated for his decades of selfless leadership and commitment to such causes as Asian American studies, redress and reparations, Little Tokyo preservation, LGBTQ rights, youth empowerment, and more. After relinquishing years of key leadership of such Little Tokyo mainstay organizations as the National Coalition for Redress and Reparations (NCRR), Little Tokyo People's Rights Organization (LTPRO), Little Tokyo Service Center, and Kizuna, Alan Nishio could now be seen presiding over one of his final and most personal meetings.
Having recently decided against further treatment for a rare form of cancer that has slowly but steadily overwhelmed his body for the past 17 years, Alan had two things he wanted to do in the short time before he died. One was to take his six grandchildren to see the film, Living, the remake of the 1952 Akira Kurosawa film, Ikiru, about a terminally ill civil servant struggling to find meaning in his life. When Alan saw this film in the 60's, it profoundly affected him and seeing it again with his grandchildren gave him the opportunity to express how it had inspired his life and work.
"We had a conversation about the difference between existing and living," he reflected. "I'm at the end but what I hope they can find is something they feel passionate about, something they feel good about, something that's kind of beyond just taking care of themselves." It's a theme that has personified Alan's life of service to others, especially to the community that has nourished his activism and his resistance to inequality of all kinds.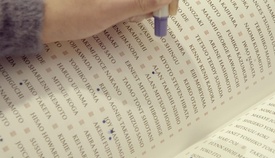 The other bucket list item was to honor his family by placing a mark in Ireichō beside the names of his grandfather, Genroku George, his grandmother, Kinu, his father, Kay Kiyoshi, his mother, Mitsue, and his sister, Jane Michiko—all whose lives were shattered by their incarceration at Manzanar—the place where Alan was born on the very day, August 9, 1945, that the US bombed Nagasaki. On this day nearly 80 years later, six names consisting of six Nishio family members imprisoned at Manzanar were marked with hanko stamps by Alan, along with he and his wife Yvonne's two children, Angela and Mia, and their six grandchildren, Evan, Alexa, Sara, Ty, Kira, and Emi.
As the grandchildren stamped each name, Alan used the opportunity to share noteworthy family history that could easily have been lost or forgotten with his passing. He began with the story of his grandfather who immigrated from Hiroshima to earn tax repayment money for the family farm and spent his first months doing arduous labor as a railroad worker.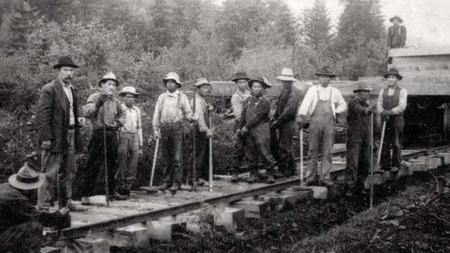 He then moved on to his grandmother who was only allowed in the US as one of thousands of picture brides who came to marry men they had never met. He reminisced about the grandmother he knew as a "spunky" woman who introduced him to such foibles as smoking and drinking, as well as teaching him more entertaining habits like playing the Japanese card game, Hanafuda or Hana.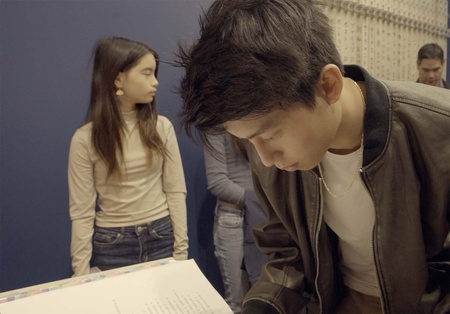 As he shifted through time to tell what happened to his family during WWII and after, his storytelling became increasingly somber. Relating the devastating effects the war had on his parents and sister, in the process he cited oddly common facts rarely spoken aloud in Japanese American families.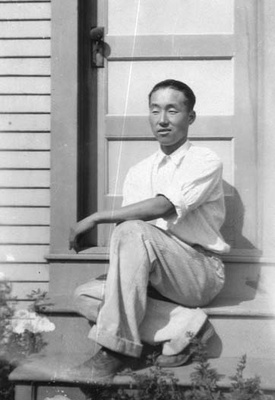 He described how his parents ran a grocery store in South Los Angeles when forced to sell it at a ridiculously low price while being hurriedly ordered to evacuate. Leaving their stored possessions behind in a warehouse, they returned after the war to find it ransacked, thus having to start over with virtually nothing.
Perhaps worse than losing their material possessions, however, was losing what Alan called their "hopes and dreams." He surmised that his father most likely turned to alcohol partly to avoid facing postwar life in work he hated as a gardener. As a child required to garden by his father's side while never speaking to his non-communicative parent, Alan now spoke openly about his father's alcohol addiction so as not to pass this legacy of silence on to his grandchildren.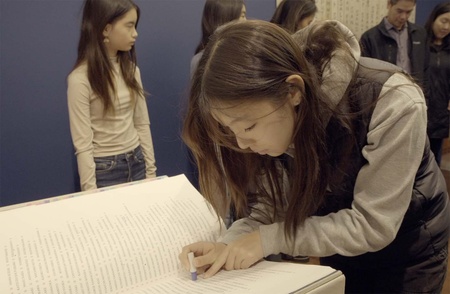 Along a similar path, he then turned to someone most of his grandchildren had met but never really got to know. Their Auntie Michi, Alan's sister, Jane Michiko, was an infrequent visitor to family gatherings because she had developed a long-term dependency on tranquilizers prescribed by her therapist, a condition that separated her from the family especially during her final years.
He wanted his grandchildren to know more about what might have led to her condition, emphasizing how she, born only weeks before Pearl Harbor, was undeniably affected by having to spend the first four years of her life living in an isolated and broken-down barrack. As he put it, "I wanted the grandkids to get a little bit better understanding of her and how in many ways, addiction really derailed her life."
Alan was keenly aware that like so many taboo subjects, addiction and mental illness have long been kept secret in the Japanese American community. Ironically, his grandfather made money during Prohibition constructing actual hiding rooms in Seattle where people gathered to drink illegally. The man who built secret rooms for drinking went on to have a son-in-law who developed a drinking problem. Most importantly, it was a problem that would devastate the family and destroy their lives—circumstances that could only be exposed by a family member's willingness to bring it to light.
Alan has never been averse to talking about conditions that have traditionally been kept silent. Take, for example, his cancer. He wants people to know about it. He believes it gives him an "edge to life to know your own mortality." Although dealing with it has not been easy having undergone seven surgeries, four rounds of chemotherapy, and three radiation treatments, he has faced death and insists it is not to be feared. "We can't control how long we live," says Alan with typical wisdom. "We can only control what we do with the time we have and how we live our lives."
As a final gesture to pay their respects at Ireichō, Alan's wife, Yvonne, who after 55 years of marriage knows him better than anyone, encouraged their six grandchildren to each say a few words about what they admired about their grandfather.
Beginning with the eldest, Evan (18), to Alexa (18), Sara (17), Ty (16), and twins Kira and Emi (13), words of knowing praise and tears of joy flowed from their hearts. Whether it meant lauding their grandfather for his "bravery when it comes to any situation he's faced throughout life," his showing them how to "make a difference in the world," his "strength in doing what's right," or simply his "kindness to everyone," each responded with the heart and strength undoubtedly passed on, punctuating their words with vows to carry on.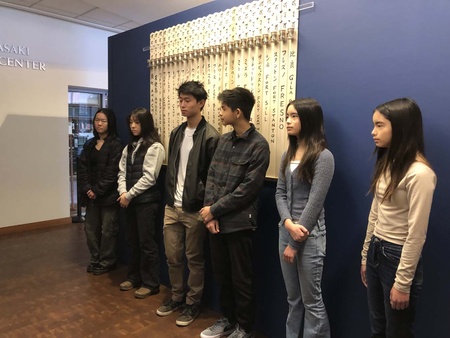 Like the wind that shifts with time, the March afternoon took a turn from the thorny past embodied in Ireichō. Strains of Alan's favorite John Lennon song, "Imagine," quietly hung in the air as warmth enveloped the room, and his grandchildren became the living embodiment of hope for the future.