It's the last day of February. In these final hours of the month, as I lay trying to figure out all the tasks for tomorrow while my 3-year-old daughter snores away in bed next to me, I find my mind wandering back to the past.
February is often a reflective month for me and, in particular, it brings up memories of my Japanese American grandparents. Every day or so, another reminder: My Ojīchan's birthday on the 5th; my Obāchan's passing on the 9th; the Facebook memories that pop up from when I wrote about my great-grandfather being taken away by the FBI; and the other stories that exist that serve as our collective consciousness as part of the Day of Remembrance on the 19th.
Even though I appreciate the amount of time I had with both of them while growing up, I often feel wistful that I didn't pay more attention to my grandparents and their stories. I've written about the sense of loss that grows with time, and writing seems to be one of the few pathways left to connect with them. Often, though, it's a frustrating process of wanting to ask them even the mundane questions that feel all the more important simply because they are gone.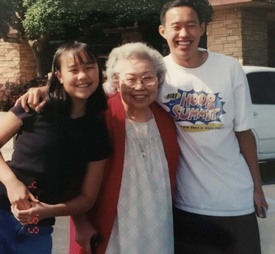 I think for this reason—the challenge of putting together a puzzle in my head while still searching for all the pieces—I find myself wanting to reclaim some of this lost history but never feeling that the time I've dedicated will ever be enough. It also inevitably invokes a sense of, well, loss.
This week, though, I finally made some time to turn to an email I've been dragging my feet to answer: A research request on Instagram about Japanese American incarceration. It was just a few questions to inform some research. This type of request always piques my interest but also inevitably gets stuck behind other seemingly pressing tasks of daily living. And because coming up with my own words always takes more effort, I called my mom to ask her the questions while semi-mindlessly jotting down notes of familiar family stories.
After hanging up, I did some light googling of my grandparents that I've often done in the past. Lots of familiar results popped up. But one showed up that I hadn't seen before. It was a short paragraph, and it misspelled my Obāchan's name–Elso Kanagawa. But, there was no question from the description that it was her. A few links further yielded more.
And then, I heard her voice.
For just a moment, I was back there with her, feeling her warm hugs and smiling at the lilt in her voice. I playfully rolled my eyes, recalling that she often wanted my brother and me to sit and talk with her when all we wanted to do was play. A 1994 oral history interview by a student at Cal State Fullerton made this moment possible. And this time, with a cup of tea in hand, I was listening.
I've written before that I often still see and experience the presence of my grandparents. I sense them in my family members, in museum exhibits, or in things that my daughters do that would make my grandparents smile. As I've gone down this path of trying to embed more of my family's lived experiences in my present living, each time I think I know their stories, I find something like this interview that makes me excited to discover more.
Where there is some sadness and even a touch of shame I feel in having lost memories of them, it disappears in light of these ways in which I feel like they're still communicating with me. Perhaps it's less like reclaiming something lost and more like learning a new way to see and hear them.
Making time to have tea with my ancestors.
Maybe that's how I will think about it from now on.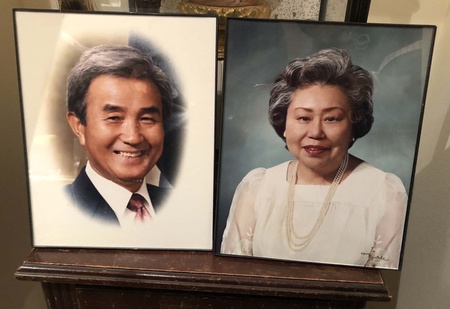 *Author's note: Special thanks to Brandon Shimoda for asking the research questions that prompted this reflection and to Chris Nakano from Cal State Fullerton for taking the time to capture my Obachan's oral history.