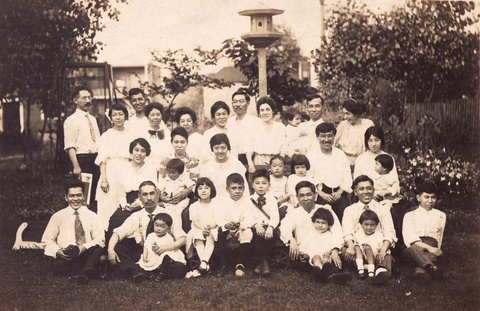 Yone Shimazu formed Nihon Fujinkai, the Japanese Women's Club in May 1911. The aim of the club was "charitable, beneficial to unfortunate Japanese, promoting friendship among the Japanese ladies, building individual character." The club had about forty members and it was comprised of Japanese women and American women who were married to Japanese men.
The club held meetings at the JYMCI (Japanese Young Men's Christian Institute), where they enjoyed reading, talking, knitting, crafting, American cooking, music, learning English. Yone told a reporter: "we live wide apart… we want to help one another to learn American customs, to have a good time, and we look after miserable Japanese boys. Sick boy to hospital, visit him with flowers." According to Yone, three of the members were students. One of them was a student at the Art Institute studying Western art, another attended grammar school, and a third was attending another school studying physical culture.1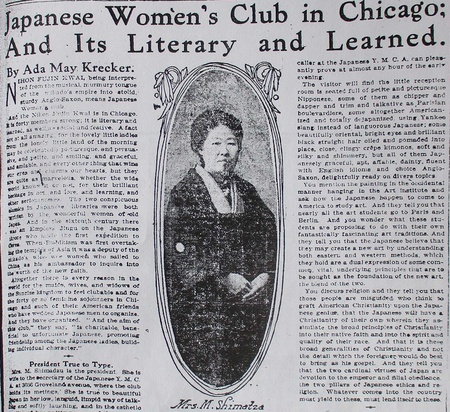 The census conducted in April 1910 listed twenty-five adult Japanese women in Chicago. Out of these twenty-five, fifteen women were married and the other ten were single. None of them were students, but somehow, Chicago saw a sudden increase in the number of Japanese women between 1910 and 1911. Puzzlingly, Yone was not listed in the census, and Misaki Shimazu was listed as a single man. Maybe this was because just before her wedding in May 1910, Yone returned to Japan to prepare for the wedding, so she was not counted.
Because Yone was fluent in English, the Japanese Women's club invited American women to be members of the club, promoting cultural exchange among these women. In the club's later years, Alice Kurusu, the American wife of Consul Saburo Kurusu, was also involved. Among other activities, Japanese and American women exchanged cooking lessons,2 and Yone formed a sewing class as well, with the goal of learning western dressmaking and manners.3
Helping American women who were involved with Japanese men was also one of Yone's important roles: Yone accompanied a twenty-one-year-old American woman, Marie P. Cox of Evanston, Illinois, who was going to marry a Japanese dentist, Dr. Tsuyo Yamada, to Osaka in October 1916.4 Miss Cox had met Yamada at Northwestern University in 1914 and he had left for Japan alone after his graduation in 1915.5
While American women were very active in the suffrage campaign through organizing their own suffragist groups, Yone's activities were limited to mostly private and personal matters in those days. In 1907 "the [suffrage] movement crossed class, race and ethnic boundaries" and "the first major suffrage victory came in 1913 when the Illinois legislature gave all women of the state suffrage for local and national elections. Because a woman's citizenship was still tied to her husband's citizenship by a 1907 federal law, many women still could not vote."6
In these circumstances, how could Japanese women even think about suffrage in America where no Japanese could even be given citizenship?
As if responding to this situation, an article reported that Japanese women in Tokyo were not interested in suffrage or were not ready for it, quoting a prominent Japanese woman: "why should we bother our head with public affairs, questions of war and intrigue and diplomacy, when these things belong to the men?"7
As such, Japanese women in Chicago had to wait until the activism of Japanese women reached across the Pacific in the 1920s. And as a result, rather than women's activism, Yone's women's club focused on building friendships with American women and providing a mutual aid system among Japanese women in Chicago.
Notes:
1. Chicago Tribune, May 7, 1911.
2. Nichibei Shuho, March 23, 1918.
3. Nichibei Shuho, February 2, 1918.
4. Chicago Tribune, October 29, 1916.
5. Oakland Tribune, October 28, 1916.
6. The Encyclopedia of Chicago, p. 803.
7. Chicago Tribune, December 8, 1912.