Some reading this may already know, but for those who don't, I'm a proud descendent of a 442nd Regimental Combat Team veteran. Wilbert "Sandy" Holck was his name; Cannon Company was his unit. Like many who answered the call to volunteer despite the country's hatred against those of Japanese ancestry, my grandfather—a Hapa haole, Japanese, Hawaiian man from Kaka'ako—risked his life to fight against injustice and to prove his loyalty to a country that had initially turned its back on him and so many others. He believed in the United States before the country even knew how it wanted to represent its citizens and what it would stand for.
Without hesitation, Grandpa Holck faked his age, because he was 17 at that time, to enlist for the war and was sent up with the rest of the 442nd RCT to train in Camp Shelby, Mississippi. He moved from city to city throughout Italy and parts of France, but it was in Bruyères, France, where he and many others made the biggest contribution, and helped liberate the town from Nazi persecution.
Years after the war, my grandfather returned to Bruyères where he met with a local townsman named Gerard Deschaseaux who would join him in creating a sister-city relationship with Bruyères and Honolulu. From that first initial handshake, the small city of Bruyères has had a lasting friendship with us here in the 50th, and continues its tradition of welcoming visitors from the islands to its anniversary held every October.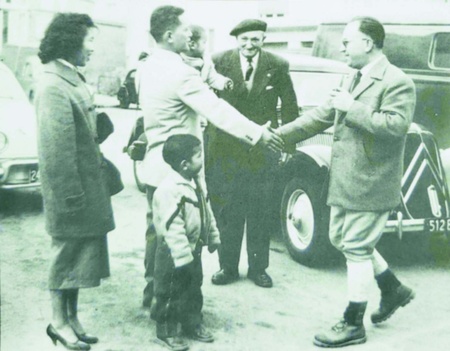 While my lack of knowledge about Bruyères and my grandfather's time spent in the war prompted me to take my own trip with my family back in 2013 for the 69th anniversary, I was more looking forward to sightseeing throughout France, Germany, and eating and drinking European delights rather than being there for the history lessons. But as I met many of the townspeople who remembered that horrid month in October 1944, when bombs and gunfire rained upon their homes while huddled in the basement for weeks at a time without much food or water, I learned so much about my grandfather and many of his comrades who helped save the town with their sheer force of will and bravery. I grew a newfound respect and admiration for what they had done for us and our country.
Seeing where my grandfather and so many other soldiers fought has made a lasting imprint on my life. I was able to piece together and appreciate parts of my family's past that I sadly knew nothing about. The war was something that was hardly ever discussed while I was growing up.
Even with my grandfather's unique connection, helping to unite Bruyères and Honolulu, his time in the war was not shared with me until I was there for the first time in October 2013, at the age of 29, standing in the cold Vosges Mountains while the trumpet played the national anthem and Hawai'i Pono'i. It was there where I learned about my grandfather's compassion and bravery through Bruyères descendants who still tell stories of the town's heroic "Hawaiian" men who liberated them. It was there where I was moved to learn every grade school child in Bruyères knows the words to Hawai'i Pono'i. And it was there where I saw the joy and love of life of my grandfather and his comrades through our long dinners with the local townspeople, which lasted into the wee hours of the morning nearly every night, eating (you guessed it) European delights and indulging in endless bottles of Champagne and wine.
After the trip, I've been blessed to see a whole new meaning and profound appreciation for my life. I was humbled and honored to be a part of a history and legacy that continues to be an example of peace within Hawai'i's history books. My grandfather and his brothers are the reasons why I (and so many others) am able to have the life that I live today. It's as if they knew, when they were all fighting in the cold mountains, so far from home, that their service would mean so much more than themselves one day. That their sacrifice for freedom and proven loyalty will carry on and be remembered by their children's children's children.
As a new mom myself, I will carry on that tradition and tell my children their story, which includes their great-grandfather's, the many past stories of our veterans' and their example of duty, bravery and honor. The Hawai'i Herald dedicates this issue to the 442nd Regimental Combat Team's legacy since its formation 80 years ago. We are honored to be your descendants and hope to make you proud. Go For Broke!
*This was originally published in The Hawai'i Herald on March 3, 2023.