Defining Courage—produced by Story Boldly and the Emmy Award-winning team of Jeff MacIntyre and David Ono—tells the story of the remarkable contributions and sacrifices made by 100th Infantry Battalion, the 442nd Regimental Combat Team, the 522nd Field Artillery Battalion, and the Military Intelligence Service during World War II. The Nisei members of these segregated units were subjected to prejudice at home and abroad but through countless acts of courage, came to be known as America's finest, fiercest, and most decorated soldiers.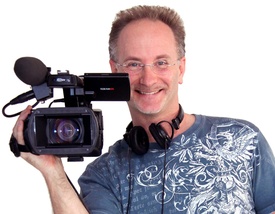 This story has been told before, but never quite like this. Defining Courage is as innovative and creative as its Director and Cinematographer, Jeff MacIntyre, who was interviewed via email.
"My creative journey began at 15 when I talked the local radio station into putting me on the air. Later, they started a public access TV station. Armed with a mic and mullet, I hit the cable waves producing all sorts of nutty content. From those cheesy beginnings, a career was launched!"
Jeff worked on thirteen radio stations, including a nationally syndicated show for more than ten years. Shortly after graduating from University of Southern California with a degree in Communications, he launched a video production company, Content Media Group, and has been producing documentaries, commercials, and content for ABC News for almost three decades. To date, he's won 24 Emmys and 10 Edward R. Murrow awards.
"So far, I've hit 51 countries and picked up some awards, but what keeps me excited are the incredible stories still in need of telling."
Jeff shared how he and David Ono, Eyewitness News anchor at ABC7-Los Angeles, developed Defining Courage.
"David and I started our adventure over 20 years ago at ABC7 News. I was a producer/shooter/editor and we traveled the globe reporting on everything from the tsunami in Japan to Haiti's quake to forests in France where Nisei soldiers forged their remarkable legacy.
"Growing up in Southern California, I was exposed to the obligatory two paragraphs of Japanese American history…if that. As an adult, my only memory was the incarceration, though. Working with David was a portal to the past and it changed my life."
It was fitting the show, first presented in Los Angeles, made its way to Hawaii, home to thousands of Nisei who volunteered for service in WWII and the diminished number of survivors who returned. Many of the descendants of these heroes were in the audience at the sold out show on March 18, 2023. And many more had been represented by the late U.S. Senators, Daniel K. Inouye and Spark Matsunaga, who were part of the renowned Army units featured in Defining Courage.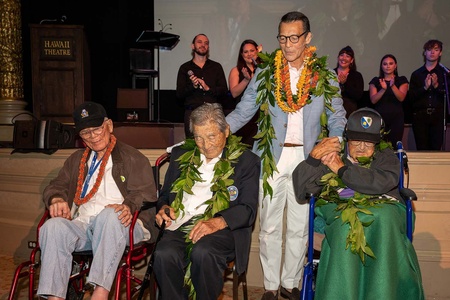 Twelve years ago, Jeff and David spent eight days in three different European countries shooting content for their first documentary about Japanese American soldiers of WWII titled American Heroes. Footage from that film and their other collaborations are featured in this show which Jeff describes as a deconstruction of their previous work. He credits David with asking the question, "What happens if we take apart our films and tried telling the story in a more engaging, creative way?"
Defining Courage is the result.
"The show is hard to describe," wrote Jeff. "It's not a documentary. It's not a speech. It's really a creative explosion of sight, sounds, and feelings from one of the more profound chapters in US history. David masterfully narrates the story while you're immersed in rich video clips on the big screen.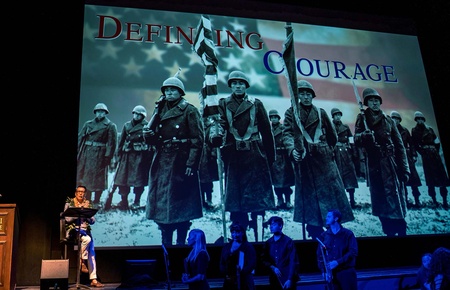 "We fly you over key battlefields of WWII as they stand today and then with archival film take you back to feel what it was like to be a Japanese American soldier on the front lines. And during all this, live music is filling the theater while a choir is beautifully belting out poignant songs to punctuate each chapter of the story.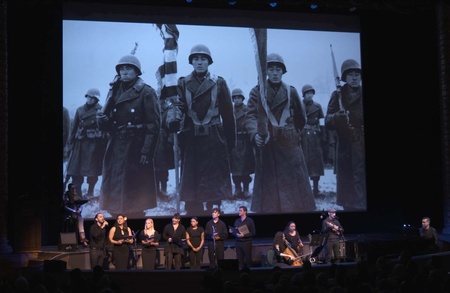 "It's a totally immersive experience infused with history, passion, sacrifice and tear-jerking emotion. While the story takes place over 80 years ago, the lessons have never been more relevant. As we continue to stare down prejudice, hate and discrimination, the Japanese American experience is a sock to the gut and reminder we must remain vigilant and courageous."
Jeff adds, "we're jaw-dropped by the interest in Defining Courage. Telling these stories is an honor and what a privilege to be able to share the show with Hawaii. After all, it's where page one of the history was written. Before the curtain went up on the first show, the second, on April 23, was 85% sold out. Since, we've added a third show on April 23 at 3 p.m. (Tickets are still available for the 3 p.m. show.)
"There's no greater feeling than seeing multigenerational audiences. People sharing this show with their parents and grandparents is heart warming and David and I look forward to meeting more families in April! BUT, the show doesn't end in Hawaii. It's only the beginning. We have ambitious plans to share Defining Courage across the country. Stay tuned!"
Produced by the team's non-profit, Story Boldly, Jeff attributes the show's success to the power of partnerships. "In order to create more of these moments, where this crucial chapter of American history is kept in the spotlight, we need passionate partners, like JANM and a host of incredible Hawaiian organizations. History books aren't doing it, Hollywood couldn't be bothered. Who is willing to help keep courage alive?"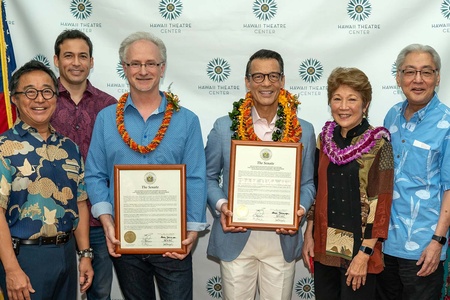 *For more information, www.definingcourageshow.com