With Yone, Misaki Shimazu founded Haha No Kai (Mother's Home) in 1913 to supervise and take care of children. The home also served as the Shimazu's own residence.1 One of the reasons they opened the home was that Yone herself became a mother; around 1913 the childless Shimazu couple adopted and began raising two Japanese children, a boy and a girl. When adopted, the girl, Fumiko, born in 1909 in New York, was four, and her brother, Yoshio, born in 1906 in St. Louis, Missouri, was six.
The story of the two Shimazu children goes something like this: their mother, Iwa, had met a Japanese man, George Nakazato, in Japan, who told her that he was very successful in the business of importing Japanese goods to the US.2 They eloped in the US, but life was unexpectedly difficult, and Iwa had to go to work, leaving the two children in the care of a black family. Rumor has it that Iwa was forced into prostitution by her husband.3 As she was pushed into a corner and could no longer raise them by herself, she brought her children to Yone and lived at the JYMCI.4
George Nakazato, who changed his first name to Yoshio and then Shigeo, was rumored to have opened a small restaurant on 63rd Street in Chicago, living with another Japanese woman, Nobu Watanabe (or Sugano), a waitress.5 With a sense of deep woman-to-woman sympathy and empathy, Yone developed a strong relationship with Iwa and the two children, especially because Iwa was from Yamagata, as was Misaki Shimazu, Yone's husband. They all traveled to Japan together to visit Misaki's niece in Yamagata in 1917.6 Around that time, George Nakazato ran a restaurant in Providence, Rhode Island.7 Iwa eventually remarried and moved to California.8 As if chasing after Iwa, however, about ten years later Nakazato turned up in Los Angeles, where he was reputed to be a swindler.9
In fact, poor Japanese children deserted in Chicago had been reported even before Yone married Shimazu in 1910. For example, the October 17, 1906 Chicago Tribune ran the following ad for someone to adopt a Japanese boy: "Is there anyone in Chicago who is willing to give a home to a bright little Japanese baby boy? The mother was left a widow, a stranger in a strange land. Unable to speak English or do hard manual work. The death of her husband left her in almost destitute circumstances, and the coming of little Yo made her burden still heavier."
A few years later, the August 30th, 1908 Chicago Tribune, ran the following report, titled "Infant Japs in Incubators": "Light of the Sun and Light of the Moon – or O Tsuki Sama and O Tento Sama … are two tiny mites of humanity born of a Japanese mother in Chicago a short time ago with hardly enough vitality between them to serve for one ordinary baby. … They were so weak and frail that under ordinary conditions they could not survive and they have been taken to the baby incubators at the [Riverview] Park."10 The lives of these babies, who were put on exhibition so that visitors could contribute to their welfare, might have been completely different if Yone Shimazu had already been helping Japanese women and children in Chicago in 1906 or 1908.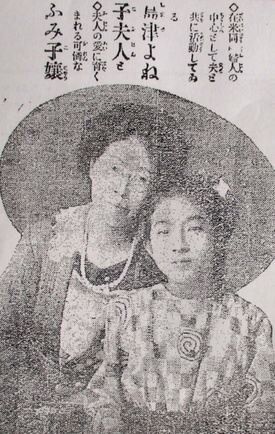 Herself the mother of two children, Yone began holding get-togethers for Japanese mothers in June 1915. Forty mothers and children gathered, and the meetings were good opportunities for Japanese women to chat freely in Japanese while their children played outside.11 In early July 1916, Yone opened a summer school for Japanese children. American women were also invited to the school to teach knitting, crafts, and swimming to the children in order to promote healthy development. The school operated in cooperation with the Daily Vacation Bible School in Chicago, the average weekly attendance was twelve, and classes met six times during the summer.12
According to Yone's husband, Reverend Misaki Shimazu, Japanese children in Chicago at that time numbered about forty-four, and many of them could not understand the Japanese language. Although we know that Rev. Shimazu planned to issue English newsletters with illustrations for children so that they could learn the value and beauty of Japanese culture,13 we cannot be sure whether such newsletters for children were ever actually published.
The 1910 census shows that there were twenty-six (ten male and sixteen female) children of Japanese ancestry under the age of eighteen in Chicago, of which nine (four males, and five females) were multiracial. Although seventeen of those children had two Japanese parents, only six of them had been born in Japan. Nineteen of the Nisei children were of Illinois birth, and one was from Missouri.
In the 1920 census, the number of children of Japanese ancestry under eighteen increased to eighty-five (thirty-four males and fifty-one females), and multiracial children accounted for almost half of them, forty-one (thirteen males and twenty-eight females). Out of eighty-five children, only one child had been born in Japan and the other sixty-four had been born in Illinois. In the assimilationist environment of that period, it was an unfortunate but natural result that these children never gained an understanding of Japanese language and culture.
Yone's good-Samaritan actions were even reported in the newspapers in 1916, when a self-proclaimed Japanese girl was found "at 2 a.m., crumpled in a heap in a doorway at Grand Avenue and North La Salle Street"14 in Chicago and brought to the police. It was, of course, Yone who was called in and took care of the girl.15 The story became a minor sensation in Chicago media reports. The name of the girl was Wanda Tango; she first told the authorities "My parents are in Michigan somewhere. I was born in Yokohama and came from there and was placed in a convent in Honolulu until I was ten. I have been in the United States eight years."16 When she was arrested again in early August, she said that she was a full-blooded Cherokee Indian born in Michigan.17 On the occasion of her third arrest, she again changed her story and said that her mother was a French woman and her father was an Indian. Because of repeated misdemeanors, she was sentenced to thirty days in jail.18 The reaction from the Chicago Japanese community was interesting.
Due to repeated erroneous reporting in various Chicago newspapers, Choei Kondo, president of the Japanese Association of Chicago, met with a Chicago Herald reporter and complained about its article, insisting that the incident and especially the reporting were an annoyance for the Japanese in general and that articles should only be printed after consulting with the Japanese community beforehand, should similar incidents happen in the future.19 Two months later in October, Wanda Tango, "the Japanese cabaret girl," was found murdered in the river near the Archer Avenue bridge. Obviously she had been strangled and thrown into the water.20 It seemed that no one ever knew the true identity of Wanda Tango.
In her leadership of the Japanese women's community in Chicago, fundraising was also important work for Yone. A bazaar to support the summer school for children was held on August 12, 1916, and about 300 people attended. Among them were both Japanese and Americans, men and women, young and old, including Consul Kurusu and his American wife, the consul's three secretaries, and a well-known Christian priest who was a friend of the Mayor of Chicago. Thanks to the hard work of the members and large donations from Japanese businessmen, over 1200 tickets for the bazaar were sold21 and the sale of Japanese food and other goods netted about $180.22
In these years the population of Japanese adult women in Chicago increased steadily; twenty-five (fifteen married, ten single) in 1910, fifty-five (forty-three married, twelve single) in 1920, and eighty-four (fifty-nine married, twenty-five single) in 1930. In accordance with this increase of population, the Japanese Women's Club came to play bigger role in American society, especially after World War I broke out. Once the United States entered the war in April 1917, wartime changed Chicago's gender and ethnic landscapes.23 "World War I offered women many new opportunities, both paid and volunteer. One of the most popular volunteer agencies was the American Red Cross."24 Now that the role of women in society had changed, the Japanese Women's Club, managed by Yone had to change its mission and expand its membership and activities to address and involve larger communities and causes.
In this social and political climate, following the move of the Japanese Young Men Christian Institute (JYMCI) to 745-749 East 36th Street in 1917, the Japanese Women's Club renewed the group's name as Fujinkai (Women's Society) in February 1918.25 At that point and thereafter, American women were given more roles and even chosen as president of Fujinkai so that it could appeal more to mainstream American society. Furthermore, with such an expanded membership, Fujinkai meetings came to be held at members' homes, such as that of Jinichiro Otsuka at 4910 Magnolia Avenue26 in February 1918,27 that of Konosuke Okamoto at 205-207 East Ontario in October 1926,28 and that of Tokumatsu Ito at 1017 East 54th Street in November 1926.29
Jinichiro Otsuka had lived in Chicago since 1905 and ran the Hinode Trading company, importing tea, coffee, and Japanese goods, and had also run the Banzai restaurant on Broadway. Ito had sold Japanese art at various stores on North Clark Street since 190630 and later engaged in art repair work at the Chicago Field Museum and the Art Institute of Chicago in the 1920s and 1930s.31 Konosuke Okamoto started out in the Japanese goods business in Chicago in 1920, then changed his focus to boarding guests in 1923 and ran a Japanese hotel, the Okamoto Hotel, at 205-207 East Ontario. The wives and children of those successful businessmen were all members of the Japanese Women's Club and Fujinkai. Otsuka had no children, but Ito had five children, four of whom were born in Illinois, and Okamoto had six children, all of whom were born in Illinois.
Other members of Fujinkai at this time, besides Yone Shimazu, Ine Okamoto and Kiyo Otsuka, were Mrs. Akira Ishizuka, (Sayo), and Mrs. Torajiro Hamano (Kiku).32 Akira Ishizuka was a furniture decorator33 who worked in Chicago starting in 1915 before returning to Japan in 1927,34 and Kiku Hamano ran a Japanese boarding house on the South Side beginning in the early 1920s.35
As more and more Japanese women with various backgrounds got involved with the Japanese Women's Club and Fujin-kai, Yone seems to have gradually withdrawn from her leadership position in the Women's Club in the later 1910s.
Notes:
1. Nichibei Taisei Nenkan, 1914, p. 151; Chicago NY Shimpo, April 26, 1913.
2. 1910 census.
3. New York Shimpo, August 25, 1926.
4. Yomiuri Shimbun, January 25, 1922; Chicago New York Shimpo, March 29, 1913.
5. New York Shimpo, November 21, 1914; Chicago New York Shimpo, March 29, 1913.
6. California, Passenger and Crew Lists 1882-1959.
7. World War I registration.
8. Yomiuri Shimbun, January 25, 1922; WWII Registration of Yoshio George Nakazato, Los Angeles.
9. New York Shimpo, July 3, 1926.
10. Chicago Tribune, August 30, 1908.
11. Nichibei Shuho, July 3, 1915.
12. The Japanese Student, December 1917.
13. Nichibei Shuho, August 5, 1916.
14. Chicago Tribune, July 24, 1916.
15. Nichibei Shuho, August 19, 1916.
16. Chicago Tribune, July 24, 1916.
17. The Day Book, August 5, 1916.
18. Chicago Tribune, August 6, 1916.
19. Nichibei Shuho, August 26, 1916.
20. Chicago Tribune, August 18, 1918.
21. The Japanese Student, December 1917.
22. Nichibei Shuho, August 26, 1916.
23. The Encyclopedia of Chicago, p. 896.
24. Ibid, p. B32.
25. Nichibei Shuho, February 16, 1918.
26. 1920 census.
27. Nichibei Shuho, February 16, 1918.
28. Nichibei Jiho, October 16, 1926.
29. Nichibei Jiho, November 20, 1926.
30. Nichibei Shuho, May 11, 1918.
31. Greg Robinson, The Unsung Great, p.248.
32. Nichibei Jiho, October 16, 1926; Takako Day, Illinois Japanese Unknown Heroes, "Chapter 1 (Part 3): Japanese Garden Designers, Domestic Workers, and their 'Japanophile' Employers—Torajiro and Kiku Hamano and Julius Rosenwald in Chicago," Discover Nikkei, June 19, 2022.
33. 1917 Chicago City Directory.
34. Nichibei Jiho, April 28, 1928.
35. Takako Day, Illinois Japanese Unknown Heroes, Chapter 1 (Part 3).