I remember as a kid talking to one of the customers of our laundry about World War I. He was an older gentleman, so he must have been in his early or late 60s. He talked about living in America during the First World War. He recalled the sacrifices people had to make on the homefront, such as "Meatless Mondays." He was really a time capsule of another generation.
The Nisei generation is disappearing. Their stories have lessons for all of us. They are living time capsules of another time. So here is another Willard Scott moment recognizing another person who has turned 100.
The centenarian showcased here is Tomiye (Tomi) Kitahata Tanaka. She has lived an interesting and fulfulling life. Tomi was born in Reedley, Calif. on Jan. 28, 1923. That is pretty cool since both my mother (1917) and my sister Helen (1954) share the same birth date.
Her parents, Kintaro and Kachiko Kitahata, were from Kumamoto, Japan. She had six siblings. Her last living sibling, Aiko Matsuno, lives in Torrance and was able to attend her 100th birthday party!
Tomi has fond memories growing up in Reedley. She remembers helping pick grapes and spreading them to dry for raisins and helping at a neighbor's farm (the Nakagawa family farmed 100 acres nearby). She and her siblings used to help sort and pack tomatoes there.
When it was warm the children would swim in the irrigation ditches with the polliwogs. She fondly recalls playing sports in a Japanese league and was especially good as a basketball forward.
Tomi remembers on December 1941, as a senior in high school, the students were gathered in the auditorium with a radio on the stage to listen to the events unfold after the bombing of Pearl Harbor…President Roosevelt speaking as Congress declared war.
During wartime, since she lived inland, the family was not evacuated as early as the Japanese along the coast. Some families from Los Angeles came and pitched tents on their farm. Soon, however, all were evacuated to Poston.
In camp she was a waitress in the mess hall. She befriended a girl, Sylvia, with whom she headed to Minnesota after a couple years in camp. She worked for a family as a domestic and helped care for an elderly parent and work in the gardens. It was in Minnesota that she met Sylvia's brother, Minoru (known as Tom) Tanaka.
As an aside, before the war, her future husband Tom was in Boy Scout Troop 379 from Koyasan. It was the same troop as my wife Lisa's dad and her Uncle Vic! They had photos of the troop and the trip to Washington, D.C.! Tom's family ran the New York Café in Little Tokyo on First Street before the war.
In 1945 the couple made plans to marry. Since her parents were still in camp, her employer, Mr. J.C. Duke, VP of sales for the 3M Company, walked her down the aisle. The Dukes and Tanakas remained friends until the Dukes passed.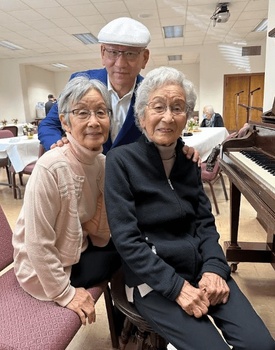 A daughter, Joann. was born in St. Paul. After the war they came to Monterey since her husband's sister, Ida Shintani, and her husband, Mas, settled there. Tom worked at Mas' gas station for a couple of years and then gardened for a year or two. During this time a son, Darrell, was born in Monterey.
At this time a local feed store owner in Monterey offered Tom land for rent. He decided to open a nursery. Having studied engineering pre-war at USC, he knew nothing about plants but studied at night.
Fortunately, at this time the Naval Postgraduate School was established in Monterey and a new subdivision was developed in Del Rey Oaks. Tanaka Nursery had a successful first year of business as they sold plants to landscape the homes in this subdivision.
During this time Tomi found time to join the Seaside Quota Club, a women's business club. She served as president for one year.
Tom and Tomi operated Tanaka Nursery in Monterey on this rented land until the landlord passed. Then they had to search for a new location and purchased land right off Highway 68 in Monterey. It was a marsh but Tom built the soil up until it was suitable to build his nursery there. Tom and Tomi ran a successful Tanaka Garden Center at this location until he passed in 1992.
Tomi continued to run the business with the help of her daughter, Joann, until 1997. Locals remember her carrying 80-pound bags of fertilizer to their cars. This petite lady credits her farming background for her strength and good health.
The family sold the land to the developers of Stone Creek Village, the current property owners, who developed the former nursery into a shopping center.
Retirement started a new chapter her life! After she retired in 1997, she traveled all over Europe and to Japan and China. Her favorite country was Italy, where she enjoyed the art, architecture and especially the paintings on the ceiling of the Vatican.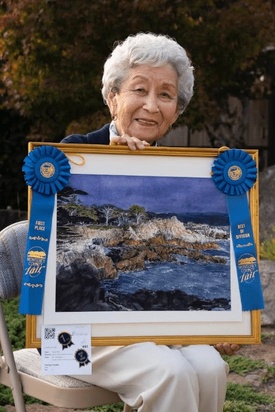 She also took up art classes, where she discovered a new talent and passion for watercolors. To this day she continues to take classes. Over the years her work has been recognized and shown locally. Her most recent award was a first place at the Monterey County Fair in 2022…a seascape painting of the coastline south of Monterey.
After she retired she also wanted to keep mentally sharp so she started memorizing the names of states and their capitals. She also memorized Bible verses. She started attending church and Bible studies regularly since she no longer had to work on Sundays at the nursery. She said she realized that in one study, she was unable to answer any of the questions asked by the pastor. It was then she decided to start reading the Bible in its entirety.
In 2015 she started ukulele lessons at the church. She practiced ukulele every day and went to nursing homes/senior living facilities to perform with the group. She also took up African drumming, which she added to her performances.
To this day she continues to walk almost every day…1-2 miles up a hill in the neighborhood in Seaside overlooking the ocean and down again. Tomi is also an avid sports fan rooting for her S.F. 49ers and the Warriors.
At age 95 she decided to get her ears pierced…something she had always wanted to do as she admired her friends' pretty earrings.
Asked about her advice for a good, long life, she laughs and responds that she drinks a Dr. Pepper each day.
When asked what wisdom she would share with the next generation (she has a granddaughter, a great-grandson and a great-granddaughter!), she mentions one should live life to the fullest, cherishing family and friends, becoming a better Christian, trying new things, meeting new people and helping others as much as you can.
Asked what is on her bucket list, Tomi says she hopes to continue her daily walks, enjoy the sunshine and the birds singing, enjoy time with family, which includes her El Estero Church family, and spend time talking to God.
Valuable lessons from a life well lived!
*this article was originally published in The Rafu Shimpo on March 25, 2023.