It was more than 30 years ago when I, as a Japanese Brazilian Nisei, started developing a desire to be of help to my peers in the same generation.
"It will be our 25th wedding anniversary next year." In 1990, I was having this conversation with my husband (Isamu). During our marriage, we raised four kids and I did all the work of a housewife and helped my husband with his job, too. We took the time off out of our busy schedule to serve our local communities as much as we could, supporting them financially as well.
When I turned 50, I declared to my family, "I'm going to start working to help more and more people from now on." "What are you going to do?" asked my sons with a disbelieving look. But they seemed relieved when I said, "Don't worry. I'm still going to cook for you and take care of all the other house chores as I've been doing so far."
What I started was hosting Japanese-learning classes as a volunteer teacher. I didn't teach at school because I myself didn't attend one, and my "teacher" was a dictionary I loved. Since I had my "teacher" beside me, I was able to start my class without worries.
One of the reasons I started this class was a story I heard from this person whom I call Y-san. Here's what she told me: "I was invited to a gathering of some executives the other day. The chairperson kept saying 'soshiki.' 'Soshiki' is a word you use when someone dies, right? I had no clue what he was talking about." So I replied, "I see. We definitely don't want to see that many people dying, do we?" "Let me explain because Japanese words can be written in kanji," I said and wrote two words "soshiki" and "soushiki" in kanji. "This one is pronounced 'soshiki.' It means organization. This one is pronounced 'soushiki.' This one means funeral. Since it was a gathering of executives, they were talking about organization. Kanji is quite interesting. The upper part of the kanji 'sou' is called kusa-kanmuri and it represents grass. There is the kanji that means 'death' in the middle. Below are two legs. It represents someone who has passed away. If you learn kanji this way, you can memorize more and more," I explained. Y-san understood and said, "Que interessante, will you teach me Japanese, teacher?" So I lost no time in deciding to start my Japanese class.
I first started my class in the North Zone (Zona Norte) of São Paulo City where my family lived, teaching once a week. The class started with only one student and gradually more people started to join. Eventually, I taught morning and evening sessions in the salon at my home and took the bus to a neighboring area to teach there during the day.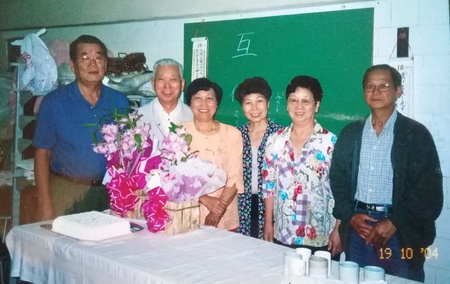 My students came from different backgrounds: those who didn't have a chance to learn Japanese during the war, those who spent a rough time doing nothing but work for their family, those who went to neither Japanese nor Portuguese schools, and some grew up in a household where it was believed that learning Japanese was not necessary in Brazil. Some of them were college graduates in Brazil who couldn't speak Japanese at all. Each situation was different and complicated. Whatever the reason, though, the number of people who wished to learn Japanese gradually increased, which was the greatest pleasure for me. Some people found the class by word of mouth and came to the class by car, driving an unbelievably long distance, and others came by train or bus and went home with joy.
I was teaching in the morning, in the daytime and at night, and I even started commuting to a meeting hall in a neighboring area, transferring buses three times. At its peak I had more than 30 students.
I'm sure you're wondering what attracted people to my class. One factor was my genuine commitment to making weekly tests, and the other factor was the class atmosphere that was always full of cheerful laughter. One elderly student whom I call S-san once told me, "I'm happy just because I was able to come here today and hear your laughter. I'm better at forgetting things like kanji than memorizing them, so I'm certainly not your best student. But I want to study in this class." In response, I said, "I feel encouraged when I see you come to my class, and I can have more fun making class materials. Please keep coming to the class."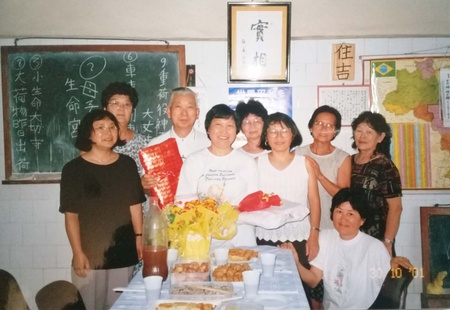 Last year, in March, 2020, to prevent the spread of Covid-19, we were forced to stay home and all the events got cancelled. Looking back, I realized that it had been exactly 30 years since I started this class as a volunteer, which I had a lot of fun teaching. Closing my eyes, I could see my students all grown up to be promising members of society with their Japanese minds and the treasure of the Japanese language, coming in and out of my class that was always full of cheerful laughter. In the second year of self-quarantining now, I do have the feeling that people in older generations like me have lost opportunities to serve their local communities, but I can say with confidence that I have no regret whatsoever. As a Nikkei Nisei, I'm grateful that I was able to be of help to many people.
Now is the time for young ones to make a move. With such a mindset, today young adults and those in their middle age are putting their hearts together, asking for donations and volunteering to send daily necessities every month to areas in need for people who have lost jobs during the pandemic and are struggling to feed their families. I heard that some people even donated winter clothes, hoping that they would help keep warm during this coming winter, and they were happily received with other food products. I give a big round of applause to the work of those young adults. As they continue to serve, I wish nothing but the spread of joy among young people among their communities.
* * * * *
Our Editorial Committee selected this article as one of their favorite Nikkei Generations: Connecting Families & Communities stories in Japanese. Here is the comment.
Comment by Shigeru Kojima
Since each of the two submissions had such an intriguing hook, I finished reading them in one go. One was about a story of a Japanese-Brazilian Nisei who devoted her life to serving the local community. The other was about the story of the first Nisei.
The former explains how the author got herself into teaching Japanese-learning classes as a volunteer, an anecdote she heard about mishearing the word soshiki as soushiki, because of the similarity in the way the two words sound. She says that the secret to running the classes of students from all different backgrounds was her genuine commitment and the class atmosphere that was always full of laughter. The latter story begins with a call that was thought to be a word about a funeral but turned out to be from a ship's crew; the author talks about his encounter with the first Nisei daughter and shares the experience with readers.
Reading those stories was such a pleasant and heartwarming experience, which made it all difficult for me to pick one. Though it was hard to make the decision, I chose the former, Kazue Ishii's "Happy to Be of Help—My Japanese-learning Classes," which I believe is highly relatable, as my favorite.