Missouri is not a state you think of when looking for culture and diversity. We are part of "flyover country," that boring and mostly flat area in the middle of the U.S. to quickly get past on the way to the happenin' East or West Coasts. That's what I thought, too, until my husband moved me and our kids to St. Louis, Missouri, some twenty years ago. Here is where I found "my people."
My sister and I were raised in a cornfield on the edge of a distant suburb of Chicago. I went to university in the central Illinois cornfields. I know flat and boring very well. Chicago was an exciting place my American father used to take my Japanese mother and us kids every two or three months so Mom could buy Japanese groceries at the Star Market and eat sushi in what was then "Japantown" around North Clark Street. We lived too far for Mom to make friends there, but my sister and I at least got a taste of our half Japanese heritage. We went to "white bread" schools and were the very shy "different ones." We were busy laying low and trying to fit in with the other kids, and that worked for the most part.
After I married, my husband's career took us to east coast Florida, northern Alabama (Huntsville), an outer suburb of London, UK, and to a Washington, D.C., suburb. In each place I only knew a smattering of Japanese people, if any. Like one to ten, and the ten were older Japanese wives of American men, closer to my mother's age. We often had a sushi restaurant nearby, though, which was very unusual in the American South in the 1980s.
When my husband had a chance to transfer to St. Louis, Missouri, we went. I did not know much about that area and thought it was boring, but it was halfway between my sister and dad still living on the far outskirts of Chicago and my husband's family in rural West Tennessee (I might have been the first person of Asian heritage they'd ever met). It was also a less expensive place to live than around larger cities. So boring or not, back in the cornfields or not, there we went. And what a surprise awaited!
Though not obvious at first, St. Louis has an active and fairly sizeable Japanese population. They are Japanese Americans and Japanese nationals and their children. The Missouri Botanical Garden here in town has a very beautiful Japanese Garden, I believe the largest in the U.S. I discovered the Garden hosted a big three-day Japanese Festival every Labor Day weekend and the festival was full of Japanese people! This festival is perhaps the largest of its kind in the U.S.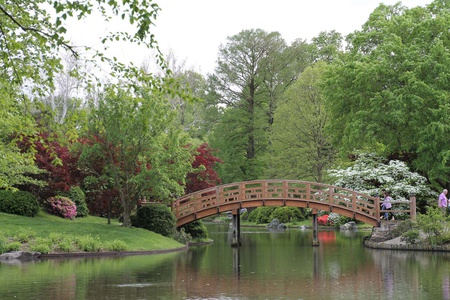 My mother moved near us and was thrilled to feel like she was in Japan at the festival, seeing the ikebana and bonsai displays and kimono show, the big carp windsocks blowing in the breeze. We could watch taiko drummers, a top spinner, and a traditional candyman pulling spun sugar into creature shapes. We could join in the Obon dances around a yagura stage at the Japanese Garden. In the last few years, there is tōrō nagashii, the lighting of little lanterns floating on the water in the evening to carry our ancestors' spirits back after visiting during Obon. Different vendors and performers come in each year and the Japanese community rallies to put on a show of their own traditional talents and crafts. Everyone becomes Japanese at the festival!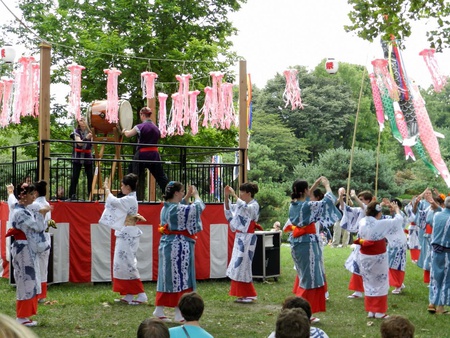 My mother felt so lucky we had moved here, and I fully embraced learning about half my heritage. I joined the Japan America Society of St. Louis and have been a board member for many years. I have been a member of the JAS Women's Association (JASWA) for just as many years. I took several years of Japanese language lessons at the Saturday Language School, although as an older student my brain was taxed to its limit—atama ga itai! (my brain hurts!). I joined the Obon dance group and tried lessons in shodō (Japanese calligraphy).
I've discovered a surprising number of Americans here have lived in Japan and loved it, bringing back many items of culture. Quite a few have Japanese spouses. Several universities offer Japanese studies and bring in students and researchers from Japan. Of course we have an increasing number of young people who are interested in anime and Japan.
The Missouri History Museum has for several years now hosted a one-day Celebration of Japanese Culture led by the JAS St. Louis, and the St. Louis Art Museum has been offering a Family Day of Japanese culture each year. The International Film Festival and the Webster University Film Series often bring in Japanese films. We have a Japanese-language church and Buddhist Zen Centers. The Japanese American Citizens League has a presence here and we have a Japan Society that is mainly for those who speak Japanese.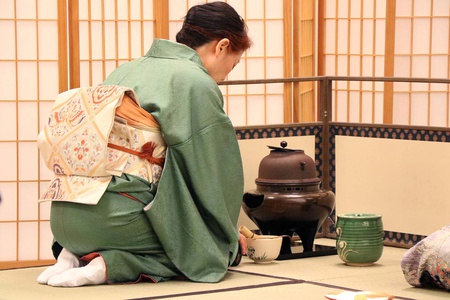 Many non-Japanese have embraced the culture of Japan, joining the various groups and learning tea ceremony, shamisen, and Nihongo (Japanese language). We have Asian grocery stores so I never feel a great need to drive up to Mitsuwa Marketplace near Chicago. We also have quite a few restaurants serving ramen and other Japanese foods and a number of Japanese or part-Japanese chefs. I can always find omochi for New Year's and the JAS and JASWA celebrate New Year's with osechi ryōri foods. Here in flyover country, in the heartland, I found my heart.