I grew up in an essentially white community. My exposure to Japanese culture was limited to my parents, as my friends and community were not Japanese. Growing up in the 60's, I was admonished to assimilate and not to be different.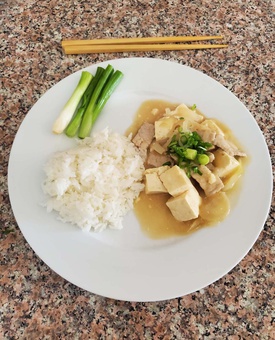 What did maintain my link to Japanese culture was food. Growing up, I remember my mother, Irene, cooking a lot of Japanese dishes, most from memory without measuring ingredients. She cooked many Japanese and Hawaiian dishes: tonkatsu, hot rice with a raw egg and soy sauce, sweet and sour pork or chicken, and fried Japanese eggplant. One of those dishes, a favorite of mine, was Butadofu (japanese pork tofu). What a great dish to eat with a bowl of rice! Maybe it was the combination of pork, onions, tofu, dashi, and miso. All of it leading to lots of umami.
My mother was the oldest of eight children. She grew up on a sugar cane plantation in Kauai where my grandfather was the blacksmith.
My grandfather immigrated to Maui, Hawaii from Yamaguchi Ken. He and his brother came to work in the sugar cane industry. In Japan, he trained in Tai Waza, an older style of martial arts. He was very lean and muscular, and became a champion sumo wrestler in the islands. He went to Kauai to participate in a sumo tournament. At that time, tournament participants stayed in the homes of local residents. For this particular tournament, he stayed at the home of my great grandparents and met my grandmother. They ultimately married; he became a blacksmith on plantations in Kealia and Koloa. He also became a champion sumo wrestler and was known as The Dragon of the Valley.
Being the oldest child, my mother took on family responsibilities including cooking. She worked as a cook in one of the plantation boarding houses; she became a very accomplished cook, cooking most everything without recipes. My grandmother was also an accomplished cook. She learned to cook from the other ethnic groups in the camps. She learned to bake bread from her Portuguese neighbors.
In 1939, my mother moved from the islands to Southern California. She had a relationship with a Caucasian man who had come to Kauai to learn the plantation trade. She knew the relationship would go nowhere; so when one of her sisters was to sail to California, she took her place and left the islands. She met my father,william, soon after and got married in 1942, two weeks before they were to be shipped to the camps.
The causasian fellow became an officer in the 100th battalion and was killed in action in Italy. My father also served in the 100th, joining the regiment as a replacement late in the war.
After spending a year at the Gila River Internment Camp, my parents were cleared to move to Chicago where my father completed his college studies. His lifelong goal was to become a physician. During WWII, he was rejected by every medical school to which he applied. After returning home to Chicago from serving in the 100th, he was finally accepted to medical school. Practicing medicine was his lifelong goal. He returned to Los Angeles, where he became a General Practitioner in Little Tokyo.
My parents passed away several years ago; and since my mother didn't use recipes, I couldn't recreate my favorite dish. One day, I decided to search for a recipe. She had given my non-Japanese wife a cookbook from the Go For Broke Education Foundation, More Veterans Favorites.
Would you believe what I found on page 83? A recipe for Butadofu!
I have been making it ever since. I don't think it is as good as my mother's, though. I suspect I am missing an ingredient, but it is close enough. My youngest son, who is still at home, loves it. I think of my mother and her Japanese/Hawaiian history every time I make it.