WOMEN'S SELF DEFENSE WORKSHOP
Gardena Valley Japanese Cultural Institute
1964 W. 162nd Street
Gardena, California, 90247
United States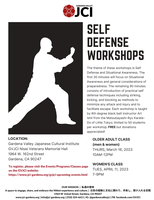 The theme of these workshops is Self Defense and Situational Awareness Workshop. The first 30 minutes will focus on Situational Awareness and general considerations of preparedness. The remaining 90 minutes consists of introduction of practical self defense techniques including striking, kicking, and blocking as methods to minimize any attack and injury and to facilitate escape. Each workshop is taught by 6th degree black belt instructor Art Ishii from the Matsubayashi-Ryu Karate-Do of Little Tokyo; limited to 50 students per workshop. This program is made possible by the Asian Pacific Community Fund COVID-19 Recovery Fund.
https://www.jci-gardena.org/gvjci-upcoming-events.html

GVJCI . Last modified Jan 31, 2023 10:45 a.m.
---