Nima Voices: Episode 14—Michael Kenji Abe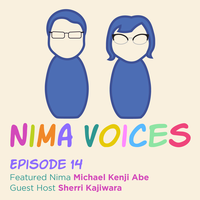 Wednesday, October 4, 2023 • 7 p.m. PDT
Nima Voices is an interview series where we uplift our Nima through brief, but enlightening, interviews. In the fourteenth episode, Canadian Sansei Michael Kenji Abe, project manager for Past Wrongs, Future Choices, will be interviewed by guest host Sherri Kajiwara, Director of the Nikkei National Museum & Cultural Centre in Burnaby, British Columbia. Join us as they chat about his father's family's experiences during World War II; living in Japan; and the Past Wrongs, Future Choices and Landscapes of Injustice projects.
Read Michael's articles on Discover Nikkei before tuning in for this live interview and Q&A on the Discover Nikkei YouTube channel or on Facebook. Log into your YouTube or Facebook account to post questions for the Q&A!
We encourage you to subscribe to our YouTube channel/Facebook page so you will be notified when the video is streaming live.

editor . Last modified Aug 23, 2023 5:53 p.m.
---