Did Fujinkai gradually change in character because the wives of Chicago Japanese consuls started becoming involved in local Japanese women's activities as honorary presidents? According to a Japanese government report, the Japanese Women's Society of Chicago (Fujinkai) was recorded as having been founded at the JYMCI (747 East 36th) in 1924.1
These members of Fujinkai in Chicago did not hesitate to address the issues of women in Japan, as Fujinkai was well connected to Japanese female activists from various organizations in Japan who came to Chicago. A good example of international solidarity among Japanese women was the Ito Kameyama arson case, about which thirty-five members of Fujinkai sent letters to Osaka Women's Christian Temperament Union (Japan's main Christian Organization) demanding that Kameyama be acquitted or have her sentence commuted. They felt very strongly about the cruelty of Japanese men and how Japanese laws ignored the rights of women.2
Itoko Kameyama's name had been Ito Tanaka in Chicago when her husband, Shigeaki (aka Nariaki) Tanaka, was a student at Chicago College of Dental Surgery from October 1920 to June 1922.3 When she accompanied her husband to his hometown of Yamaguchi Japan in 1923, she was forced to divorce him under pressure from her in-laws, as Tanaka wanted to marry another woman. In despair, Ito set fire to a storage shed next to her ex-husband's house on his wedding night and was sent to prison in Hiroshima.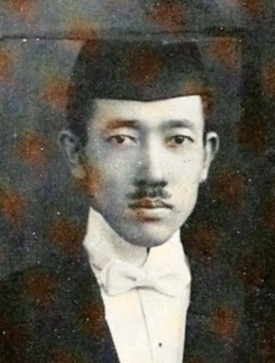 Shigeaki Tanaka had come to Seattle from Japan in 1908 when he was 20 years old4 and earned High School certification from the State of Oregon.5 He enrolled at North Pacific Dental College in 19166 and worked at US Army Chemical Corp in Edgewood, Maryland after graduation.7 Then he returned to the West Coast and married Ito in September 1920 at Skamania Lodge in Stevenson, Washington8 before coming to Chicago.
For her own part, Ito had come to the US in 1913 as a picture bride but had divorced after a few months. She spent two years in Seattle under the care of her uncle, then moved to Portland in 1915 and met Shigeaki Tanaka. There Ito supported Shigeaki, who, as a student and newcomer to the US, suffered from dire poverty.
But the local Japanese in Portland and Seattle saw how hard Ito worked to support Shigeaki, working in the printing division of the local Japanese newspaper and waiting tables, so he could pay his tuition at North Pacific Dental College in Portland. Ito worked hard to support their life in Chicago as well, as a cook at the JYMCI and as printer of the newsletters published by the JYMCI. They returned to Seattle in 1922 and Shigeaki opened a clinic in January 1923, but he never had enough patients to pay back their medical equipment debt. It was again Ito who worked hard to pay off the debt.9
Upon receiving news that Ito had been charged and imprisoned as a criminal, with a steadfast conviction about her integrity as a person, local Japanese in Portland and Seattle started working to rescue her from prison in February 1924,10 collecting 1,124 signatures for her commutation or acquittal. The petition was sent to the Minister of Justice in Tokyo.11 Probably due to such a strong international effort on her behalf, Ito's sentence was shortened from five years to two and half years, and Ito was released from prison in March 1925.12
Overall, the main interests of Fujinkai members seemed to be their children and education. At one of its regular meetings held at the residence of Yutaka Saeki, members of Fujinkai enjoyed a lecture on children's education given by Shigeru Otomo,13 who had received his PhD in Education at University of Chicago in August 1924.14 Saeki ran a boarding house at 5430 Cornell Avenue in Chicago and, with his wife, Sadako, had five children.15
In October 1926, Fujinkai invited all the Japanese and Japanese American children from the city to a celebration of the Emperor's birthday, at which Reverend Shimazu told Japanese stories in English so that the children could understand them. The party was big success.16
1927 was a sad year for Yone Shimazu. In June, her adopted daughter, Fumiko, became sick and died in Los Angeles while visiting her birth mother with her brother, George Yoshio.17 Nevertheless, Yone continued to immerse herself in her Chicago social activities. She took in Katsuko Yonezawa, a Japanese voice training student at Chicago Musical College, as a lodger in her home.18 Katsuko helped Yone by performing at a bazaar held by Yone to raise money to meet current Fujinkai expenses.19
In December in 1929, amid the festive mood before Christmas, several art exhibits were held in Chicago. At one of them, the International Exhibit at the Art Institute, many foreign countries, such as Mexico, Norway, Poland, Holland, Spain, Japan, Italy, France, Germany, and "practically every country" were represented in Chicago. Shizuko Matsuoka, Yone Shimazu, and Mrs. Kauko Yamagata (wife of Sansho Yamagata, manager of Horikoshi & Co., a silk manufacturer) as well as Mrs. Kimura, wife of Consul Kimura, helped to showcase Japanese ethnic art and skills. Mrs. Kimura showed off her kimonos, and Yamanaka Co., a Japanese Art importer based in New York, generously exhibited a great deal of Japanese art, including traditional prints.20
The next spring, in April 1930, when the Chicago Theological Seminary held an "international night," attracting a big crowd, Japanese women contributed to the entertainment. According to reports, "Francis and Lillian Matsukawa entertained with American music on the violin and piano, [but] the rest of the program was more distinctly Japanese", consisting of a folk dance, "Harusame" (spring rain) presented by Mrs. Sadao Arai, wife of the Japanese Consul, two folk songs sung by Helen Koide, and a koto performance by Mrs. Maeyama.21
The year 1929 was a big turning point for the Japanese YMCI, which lost its affiliation with the Central YMCA of Chicago, and Shimazu lost his job as an officer for the Japanese department of the Central YMCA. In a quest for survival and a new role in the Chicago Japanese community, which had by this time become more inclined toward Japanese nationalism, the JYMCI started a Japanese Language School in 1931 under the auspices of Fujinkai.22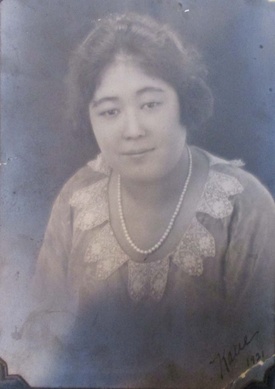 Classes were held on Saturdays; day class from two to five at the JYMCI, 747 East 36th Street, and night class from seven thirty to ten at the home of Mrs. Kaneko Kuwahara. There were thirteen students in the day class and six in the night class.23
According to a report of the Foreign Ministry of Japan in 1934, nine American were also studying Japanese at the school, and two teachers were employed.24 Was Kaneko Kuwahara one of the teachers? Kaneko's husband, Wasoji Kuwahara, was a photographer who had come to Chicago in 1914. His photo studio, the Van Dyke Studio at 1225 E 55th Street, survived from 1915 until the post-World War II years.
Although Masuto Kono once observed that Japanese in Chicago were very indifferent about teaching Japanese language to the Nisei in the early 1920s,25 the changing international political situation after Japan's invasion of Manchuria seemed to mandate that Nisei in Chicago be taught Japanese language and culture, so that they would not lose their ethnic pride. The school held an Arts and Sciences Day at which the students demonstrated their Japanese conversational ability, Japanese calligraphy, writing hiragana on the blackboard, and reading Japanese folk tales to their parents and teachers.26 For their New Year's celebration, the Japanese school entertained the students and their parents with zoni and sushi.27
Beginning with the development of the Japanese YMCI, which her husband founded and involved from 1908 to 1933, Yone Shimazu worked hard for Japanese women and their children for twenty-five years in Chicago. Through her work with the Japanese women's group, Mother's Home, and the Japanese language school, she never wavered in demonstrating her values and her conviction in advocating for them for all these years. We can attribute this steadfast attitude to her traditional Christian values, which Yone had taken to heart through faith and education since her childhood in Japan.
When her husband, Misaki Shimazu, suddenly decided to leave Chicago for the Shanghai YMCA with Yone in February 1934,28 Yone's story in Chicago ended.
By this time, the Fujinkai had come under the influence of the Japanese government and was headquartered in an office at the Japanese Consulate. The Society collected comfort bags for the Japanese soldiers in the Sino-Japanese War and solicited funds to help the war effort, which were turned over to the Consulate office.29
One of Yone's adopted children, Yoshio George Nakazato, did not accompany the Shimazus to Shanghai, but instead went to Los Angeles to be near his birth mother.30 Yone died in Shanghai in October 1941, just before the Pacific War broke out.31
Postscript: Violet Mandeville Nagashio, who was once the president of the Fujinkai, had lost her US citizenship when she married Minoru Nagashio in 1908. She attempted to regain it after her husband's death in 1926, but her application was rejected on December 23, 1927.32
Notes:
1. Zai-Hokubei Hojin Dantai Chosa Daiichi Chosa Dai 6 Go, 1936 (B10070011200).
2. Oshu Nippo, May 10, 1924.
3. Oshu Nippo, March 12, 1924.
4. Washington, Arriving and Departing Passengers List.
5. The Dentos, 1922; Chicago College of Dental Surgery.
6. The Dentos, 1922; Oshu Nippo, March 12, 1924; World War I Registration.
7. The Dentos, 1922; Oshu Nippo, November 1,1918.
8. Washington marriage records.
9. Oshu Nippo, March 12, 1924.
10. Oshu Nippo, February 15, 1925.
11. Oshu Nippo, March 12, 1924.
12. Shin Sekai, August 29, 1924.
13. New York Shimpo, March 19, 1924.
14. University of Chicago Magazine, March 1949.
15. 1920 census, 1930 census.
16. New York Shimpo, October 20, 1926.
17. Nichibei Jiho, July 2, 1927.
18. 1930 census; The Directory of Japanese Students in North America 1925-1926.
19. YMCA report, dated October 7, 1927.
20. New York Shimpo, December 14, 1929; Chicago Tribune, December 7 and 15, 1929.
21. The Daily Maroon, April 10, 1930.
22. Nichibei Jiho, November 29, 1930.
23. Nichibei Jiho, October 17, 1931.
24. Report on Japanese language schools by Foreign Ministry in 1934.
25. Shin Sekai, Octtober 2, 1924.
26. Nichibei Jiho, October 17, 1931.
27. Nichibei Jiho, January 6, 1932.
28. Takako Day, Japanese Christians in Chicago, "Chapter 4: Misaki Shimazu and The JYMCI at 747 E. 36th Street" (Discover Nikkei, August 8, 2021)
29. FBI Chicago file 100-7471, Yamazaki file.
30. WWII Registration.
31. Nichibei Jiho, November 1, 1941.
32. US Naturalization Record Indexes.