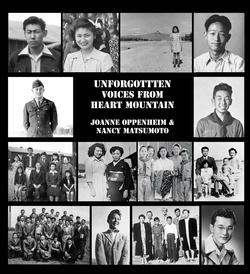 Unforgotten Voices From Heart Mountain: An Oral History of the Incarceration* is different from the usual memoir or biography of an individual family and it's different from a historian's narrative about the Incarceration and how it happened. These are unforgettable voices of Japanese Americans, many of them young people who were imprisoned during WWII, as well as those who imprisoned them, and townspeople in the harsh high desert of Wyoming. Told in their own words, from interviews, diaries, and letters these are heartfelt stories of students, their teachers, young adults whose lives were on hold, those who served in the army, the WACS, and resisters who refused to serve unless their rights as citizens were restored and their families released.
From Dec 7th to the post war years, Unforgotten tells the story of a little know chapter in our country's history. Illustrated with photos from family collections, archives, and newspapers. Although the mass incarceration happened more than 80 years ago, we can detect eerily familiar echoes of today, when racism and xenophobia are on the rise. These voices live on to warn as well as witness what happens when the foundational principles of our democracy are forgotten, and we fail to protect the civil liberties of others as well as our own. The below is an excerpt from Unforgotten Voices from Heart Mountain.
* * * * *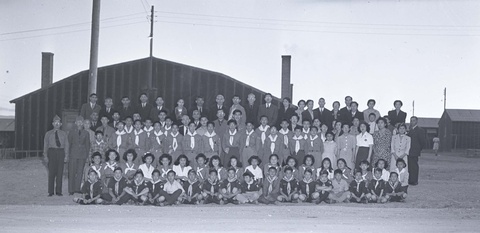 PROJECT DIRECTOR ROBERTSON
After all the upset that spring, Project Director Robertson felt he had to do something for morale inside the camp, especially for the kids. So, on June 5, 1944 he sent this memo:
Dillon S. Meyer, War Relocation Authority Office, Washington, D.C.

I would very much like to establish a camp for the Boy Scouts and Girl Scouts this summer…I am very anxious to do everything we can for the younger people in the Center inasmuch as they are becoming more and more under the Issei influence. So many of the Nisei have relocated that the school children do not have the advantage of Americans of American culture that they did have previously. Boy Scouts and Girls Scouts and Campfire Girl movements at Heart Mountain have been very active & they are a fine bunch of youngsters. They are not permitted to attend the summer camps of the national organizations and I believe it is up to us to give them everything that we can to continue our Americanization program.

Guy Robertson, Project Director, WRA Papers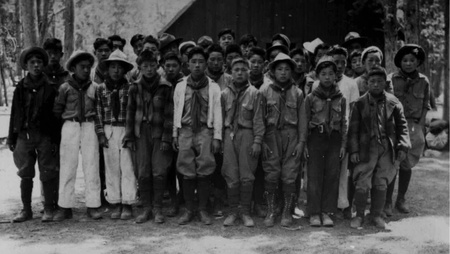 An Americanization program! Did they forget these children are Americans? The government put American children inside barbed wire fences, takes away their freedom and then plans to talk to them about democracy.
Frank Emi put it perfectly.... "You could say that you are fighting for democracy abroad, but if you lose democracy at home what have you won?

NOB, HIGH SCHOOL STUDENT
When I was 13, every morning during homeroom, we recited the Pledge of Allegiance in those days, we saluted the flag with the outstretched right arm. We did this also at all Boy Scout activities. It always bothered me when we came to "liberty and justice for all" because we were in a concentration camp and the paradox was irritating as a pebble in my shoe. At the end of the pledge, I would mumble "liberty and justice for some," fearful that the FBI would make me disappear like so many others, if they found out what I was saying. I felt the same way when we sang the "Star Spangled Banner" the words "land of the free and the home of the brave."

They keep talking about democracy but here we are locked up for the third summer and they want our brothers, cousins, and uncles to go fight while their families are kept in prison camps – guarded by soldiers wearing the same uniform our Nisei soldiers are wearing, fighting for the same flag as the one flying over the prison camp we cannot leave!

Nobuyuki Shimokochi phone interview and emails 11/12/04

KAZ, JR. HIGH STUDENT
Our Scout leader told us going to Yellowstone was a gift to all the Scouts who participated in the War Bond and Stamp Drive. Well, we were a competitive bunch.

Our Scout troop wanted to sell more stamps. I remember wearing my scout uniform and knocking on all the doors and some would buy, but most of them didn't and a few of the families got angry. 'We'll never buy these stamps! They threw us in these camps and we're sitting here!'

You know, some Issei thought they were buying postage stamps and when they found out they were defense stamps, they were furious! They thought the Scouts were misleading them!

Most of us Scouts didn't just sell defense stamps, we collected them, too. Just about every kid had a stamp book that we gradually filled with ten or twenty-five cent stamps, one after another. When you had 18 dollars and fifty cents worth of stamps you could turn that in for a United States War bond worth 25 bucks in ten years. Sounded like a fortune to us kids!

Kaz Shiroyama interview with JFO, 11/7/04

JOE, HIGH SCHOOL STUDENT
That summer, there were swarms of flies everywhere. That's how the fly-swatting contest came about! Some administrator dreamed up the idea of giving kids a 10-cent defense stamp for every 100 flies we swatted!

Right off, I had a great get rich quick idea. I told my friend Jimmy how we could win lots of stamps. All we had to do was improvise.

Well, we got this screen and made a cylinder. At one end we had an inverted cone with a hole. Now the flies can smell the bait inside the cylinder and they can get in-- but they can't get out! The bait — we dug it out of the garbage, whatever attracted flies.

There were flies all over the place, but we went down to the hog farm... there are plenty of flies down there. So, we put the trap near the hog pen and by golly, in no time flat, it filled up with flies. But they're live.

So in the laundry room we... put the trap under hot water ... and voila—they're all dead! Then, we put them in a glass jar and took them down to the place where you redeem flies.

Well, we got away with it once— but then the next time, one of them said 'Hey wait a minute...these things aren't swatted! They're not flat. Something's wrong here. These flies are whole!'

They were wise to us and said, 'From here on in all flies have to be smacked.'

So we gave up on that. My inventive get-rich-quick scheme was smashed!

Joe Tamura interview with JFO at Heart Mountain Las Vegas reunion, 10/04/05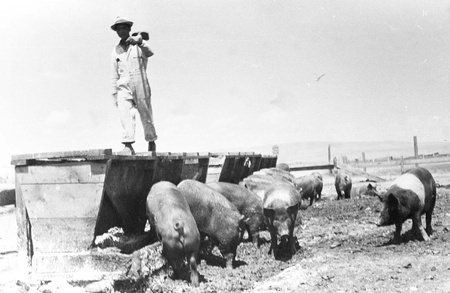 FLAG DAY 1944
It wasn't just the Boy Scouts who were involved. Girl Scouts sold stamps and collected scrap paper. They were every bit as patriotic as the boys. In fact, on Flag Day Edna Tanaka gave this patriotic speech:

The American flag is the only one I know. On this Flag Day, I repeat that it will be the only flag I will ever know, for as an American citizen I owe it loyalty and I shall honor it.

The flag is the symbol of the country that has given me birth, education, and opportunity to live. If those principles have been violated, it is not because the flag is bad. It is not because America is bad. No, it is because the principles on which this country was founded are being forgotten.

Let us, as young citizens of tomorrow, make sure that when we become adult citizens of this country, we will not forget what the flag stands for.

Let us salute our flag and say: As a good American, I shall never forget what you stand for.

Heart Mountain Sentinel, June 19, 1943 p 5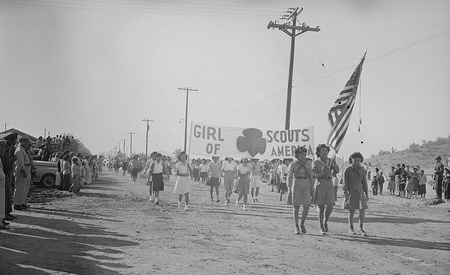 *Unforgotten Voices from Heart Mountain is available for purchase through Amazon (Kindle edition) and the JANM Museum Store (paperback).