For one last time, the students of Fujima Kansuma Kai performed and at the conclusion, bowed to their beloved Osho-san as paper pink petals drifted down at the Aratani Theatre on Sunday. A portrait of Kansuma, standing regal and resplendent in formal kimono, looked on as if once more teaching her students and taking it all in with a critical eye.
This month (April) has seen the return of cherry blossom festivals to Southern California after ceasing for three years of pandemic. There have been taiko drummers, hula dancers, food booths and smiling faces, a welcome sight. But I think sometimes what is lost here in the Nikkei community is also the sadness of cherry blossoms. Their ephemeral nature signifies not only the coming of spring but also the transitory nature of life. Buds become blossoms that inevitably drift to the ground, like so many tears rolling down our cheeks. This is a common motif in Japanese art and literature.
Sunday was not the first time a performance of Fujima Kansuma Kai (named by Walt Disney himself) brought tears to my eyes. The effort required, the hours of practice, the whirl of kimono and sensu — all of it in the pursuit of beauty, the perfection and imperfection of the finite. In 2019, at the age of 100, Madame Kansuma waved to the crowds as she rode in car down First Street, accompanied by her dancers. Her daughter Miyako Tachibana (Fujima Kansuzu) led the dancers amid fluttering, colorful confetti.
It was so fitting that the Aratani, where Madame Kansuma performed her final dance mere months ago, was where her tribute was held.
What binds us together is this place, this Little Tokyo.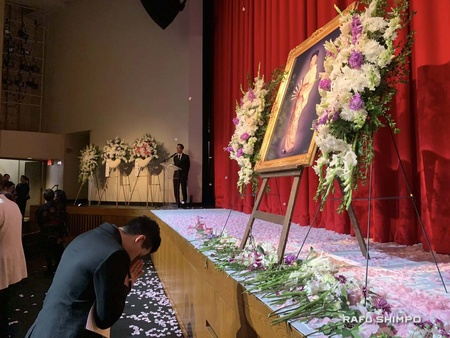 Like a redwood in the Sierras, the concentric rings of history only make Little Tokyo richer, its memories deeper: the lean years, the dark years and the years of joy and plenty. It is why so many of us are so passionate about protecting the neighborhood and making it a welcoming place for future generations to build upon this legacy.
I think with love and admiration of longtime community leader Alan Nishio, who despite entering hospice, sees so much reason for optimism for this neighborhood. It's in the faces of youth, but also ingrained in the work and toil of so many who have come before. He summed it up in one word: community.
I see it in the figure of Tak Hamano, the late chairman of Umeya Rice Cake Company. When George "Horse" Yoshinaga died in 2015, Tak summoned me to his office — filled with the warm aroma of delicious baked treats — to pick up a box of rice crackers for Horse's widow, Susie. That was just like a Nisei, to always be there for others, always so reliable, so kind and generous.
There are so many examples. "Oh. she's so Nisei" and you knew exactly what that meant. Of course it is wrong to idealize … everyone has positive and negative traits, and I'm sure the kids of Nisei parents can rattle off numerous anecdotes, such as an inability to part with things like tofu boxes and grocery bags.
This year has started with so much sadness. It seems like almost every day someone mentions a friend, a family member who is sick or has passed. Endurance is part of our nature and it feels like after three years of pandemic, it is being followed by another wave of loss. Or maybe that is just the point in life that I and others have found ourselves, no longer young, edging towards our later years. Loss is inevitable.
What is there to do but keep going on? Enjoy life and find our purpose and passion, forge our own paths the way generations before us have. For so many, that purpose is found in Little Tokyo.
On Tuesday, LTSC broke ground on The Umeya, on the site of the former cookie and sembei factory. Where Tak led his family's company for so many decades, a housing complex will be built that will help low-income families and create a safe environment for creating new memories, building new communities.
When the project was first announced, Rex Hamano said, "Our family business has been a part of the Little Tokyo neighborhood since 1918. Given Umeya's history and the community who supported us for nearly 100 years, the two are forever inseparable."
Something new being built upon so much history.
While cherry blossoms signify the fleetingness of life, they are also about joy and celebration. In Japan it's a time for o-hanami and parties with beer under the sakura trees.
I think of strength and poise of Kansuma's daughter Miyako, who brought together so many complex elements in final tribute to her mother, who was such important figure in the lives of so many. As many dances as her mom taught over the years, it was poignant that Miyako revealed that the most important lesson was she taught her how to pray.
Through the tears, we continue to follow in the footsteps of those who came before us. In our own way we continue to move ahead in the dance of our lives.
*This article was originally published in the Rafu Shimpo on April 22, 2023.