Like many Sansei, I heard the admonishment "mottainai" countless times in my childhood. The Japanese word, which basically means, "too good to waste," was the mantra of frugality in our household. Whenever I was about to throw something away that might potentially be of future use, my parents would scold, "Mottainai!" The word was always pronounced as a sharp rebuke with an exclamation point: "Don't be wasteful!" So, gifts were unwrapped carefully so that the ribbon and paper could be saved, old rubber bands were kept in empty plastic containers that once held tofu, and small packets of shoyu, ketchup, and mustard were stored in a kitchen drawer.
As a kid growing up in Hawaii, I came to resent mottainai. The youngest of four boys, I remember wearing aloha shirts that had been passed down three times, sequentially from my eldest brother through my middle brothers and then to me. And even after the material of a hand-me-down became threadbare it was saved as boro boro—rags that could be deployed for cleaning the house.
Yet, although I may have resented mottainai as a kid, I've since come to appreciate its growing necessity, especially as the world population soars toward eight billion, making it all the more imperative for us to conserve finite resources. Here in the United States, we consume and squander enormous quantities. One estimate is that nearly forty percent of all food in the U.S. goes to waste. Mottainai!
But even as I've come to adopt many of my parents' frugal ways—wearing the same clothes for years, turning off the lights when nobody's in a room, asking for a doggy bag if I can't finish my meal at a restaurant—I now realize that there's also a distinct downside to mottainai. In fact, I believe there are two types of mottainai: the good type and the bad type. Here's an example of the latter.
Years ago, a good friend's Nisei parents flew from Honolulu to Japan. They had saved for years for the trip, and while there they splurged and bought a large bag of premium rice from the Niigata prefecture. They lugged the bag back to Hawaii but then didn't use it, always saving it for some future meal. After all, eating that expensive rice for anything but the most special of occasions would be wasteful, or so they thought. But after having stored the rice for more than a year, they discovered that bugs had infested the bag.
Of course, it's natural for families to refrain from using their prized possessions, saving them only to celebrate the most joyous events, and this practice of restraint may be particularly pronounced for immigrant families. When you're struggling to establish yourself in a new land, the inclination is to be frugal and to cherish whatever prized things you might possess. With the Nikkei, that tendency may have intensified through the World War II experience of forced relocation and incarceration in concentration camps.
The problem, though, is this: What if those special occasions that you've been saving for never come? Or, when they do, you don't deem them special enough because another event even more special might occur in the future?
When I've written about mottainai on Facebook, fellow Sansei author Chris Komai commented that the Issei and Nisei practiced "deferred gratification." This is different from the often-used term "delayed gratification," in that the Issei and Nisei weren't delaying their own enjoyment. Instead they were deferring it to the next generation. They were frugal and eschewed the indulgence of luxuries and fine items. They deprived themselves so that the Sansei and Yonsei could enjoy. In other words, "kodomo no tame ni" (for the sake of the children).
Several years ago, I was reminded of these life lessons of mottainai after my Nisei parents had passed and I was helping to clean out their home so that my brothers and I could put the house on the market. It was an arduous task because my parents had saved so much stuff, much of which they really should have given away, donated, or discarded. But among their myriad possessions were also many fine items—elegant china, exquisite pottery, beautiful silk clothing—that they had never used.
And as I sorted and packed their things, I also discovered my father's secret stash of good liquor. He had stored about a dozen bottles deep inside a lower cupboard in the kitchen, where I had to crawl to retrieve them. These were unopened bottles that I believe visitors from Japan had given him as omiyage over the years, and several bottles were expensive sake that had since gone bad. Talk about mottainai!
As I dumped the bad sake down the kitchen drain, I was overwhelmed with such grief. How I wished that my father, who had worked so hard throughout his life, sending his four sons to college, could have enjoyed this fine alcohol while he was still alive. Up until his elderly years, he had a poker gang of his best friends who would meet monthly to play through the night. I remember them always drinking beer. Why didn't my father crack open one of these bottles every once in a while to celebrate a birthday, an anniversary, a child graduating from college, or the birth of grandchildren?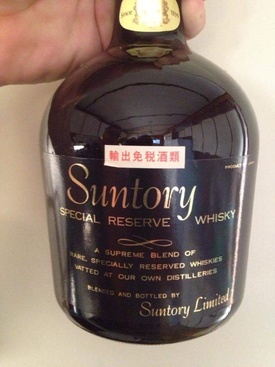 But not all of my father's liquor stash went to waste. One bottle was a special reserve of Suntory with a label that I had never seen before. I'm not that much of a whiskey drinker (I much prefer vodka or wine), but I damn well wasn't going to let that premium bottle of Suntory go to waste.
So, after I had finished cleaning my parents' kitchen, I invited my best friends from high school over that night to enjoy some fine Japanese whiskey. These guys are like my father's poker gang—fiercely loyal, always dependable, and steadfastly supportive—and we've been there for one another through decades of life's many ups and downs.
That night, using my dad's favorite jigger glass, we toasted him before drinking round after round of that exquisite whiskey, all the while reminiscing about the crazy, fun times we'd had over the years. It was the smoothest whiskey I've ever had and, as we polished off that bottle, I imagined my father somewhere up there smiling, knowing that this sublime bottle of Suntory, which was certainly much too good to waste, had indeed not been wasted, not even a single drop of it.