Our stories are just as significant as anyone else's.

— Tad Nakamura
Tad Nakamura was at ease as we sat across from each other in the cavernous and calm office of the Frank H. Watase Media Arts Center (MAC). As the videographer set up the camera for our interview, I talked with the new director of MAC about how I unknowingly came across his work as an undergraduate at University of California, Irvine. After publishing an interview with Jake Shimabukuro in the campus newspaper, I taught myself how to play "Blue Roses Falling" using a short video directed by Nakamura for his then-upcoming documentary Jake Shimabukuro: Life on Four Strings, which broadcasted on PBS and won the 2013 Gotham Independent Film Audience Award. I was looking forward to learning more about him and his connection to MAC.
Born in Culver City, California, Nakamura grew up playing sports and participating in activities within the Japanese American community. He played youth basketball at the Venice Japanese Community Center and participated in the Boy Scouts at the Venice Buddhist Temple. His parents were involved with the Senshin Buddhist Temple and worked in the Los Angeles Little Tokyo community, where he spent a lot of time too.
"On the one hand, I got to grow up on the West Side in a diverse community. At the same time, I got to grow up in a very specific Japanese American Little Tokyo community. And I think both of those really informed my own identity, both locally but also too, as a Japanese American in a broader community," said Nakamura.
One of the most important organizations of Nakamura's childhood was the Yellow Brotherhood. Established in 1969, the Yellow Brotherhood was a grassroots organization founded by former Prime Ministers gang members to help at-risk Asian American youth during the 1960s and 1970s. The Yellow Brotherhood had basketball teams, which continued after the organization disbanded in 1975. Nakamura's youth basketball team, Venice YB, was a part of that legacy.
"That actually really politicized me and got me interested in the community, specifically the Japanese American community. But that's also when I really understood that I'm part of this legacy of activism and Japanese American activism specifically here in LA," he said.
Nakamura's parents, Karen Ishizuka and Robert Nakamura, are icons in the local and national Japanese American community. Ishizuka grew up in Santa Monica, California, and is currently the chief curator at JANM. A scholar of Japanese American history and culture, she earned her Master of Social Work from San Diego State University and her PhD from UCLA. Nakamura grew up in the Los Feliz and Atwater Village neighborhoods of Los Angeles. The founder of Visual Communications and the UCLA Center for EthnoCommunications, he earned his MFA from UCLA. Together, they became a filmmaking team and established MAC, which produces documentaries, exhibition media, and video life histories in support of JANM's mission and work.
"Subconsciously, I think they were showing me that, one, Asian Americans are filmmakers, but two, you can actually make films about your community. You can serve your community and still raise a family," said Nakamura.
His parents' involvement with organizations like the Japanese American Cultural and Community Center, Little Tokyo Service Center, Visual Communications, and JANM all helped shape his own identity but when affirmative action was repealed in California, he became active in the Asian American movement.
"That spring quarter—my senior year in high school—was called the Days of Resistance, where students of color took over Royce Hall and demanded that affirmative action be saved to ensure that there'd be some sense of diversity in admissions. So that was actually a big turning point for me because at that time I had been a little politicized," he said. "When I saw the protests at UCLA I got really excited and I was like, Oh, that's where I'm going next year and that's exactly what I want to do."
During that same year, his father encouraged him to attend the Serve the People Conference at UCLA. He heard Grace Lee Boggs and Yuri Kochiyama give the opening keynote but what really made an impression on him was Faith Santilla's spoken word performance.
"It really resonated with me because it was this creative form. It was poetry, but it was specifically late nineties, spoken word–style slam poetry, which was heavily influenced by hip hop. And that's the culture and art that I was born and raised in," said Nakamura.
His undergraduate experience at UCLA also helped him understand how his parents were a part of the Asian American movement and that the arts could be a form of activism.
"Growing up, I knew that my parents made films. Basically, any of our vacations were actually location shoots. But once I became an Asian American Studies student, I started seeing their names in articles and books; some professors would actually talk about my dad in their lectures. So it wasn't until then that I actually understood what my parents were doing and why they were doing it, and their commitment to documenting the Japanese American community."
When he took his father's class in EthnoCommunications, he began to see the possibilities of making his own films.
"I realized that I didn't have to be a talented artist, you know, because I couldn't perform or do any of the things that I enjoyed watching. But I realized if I had a camera, I could record people who are super talented, and that would be my kind of contribution to the student movement at the time or even to the arts and activism movement at the time," he said.
All of those experiences led him to become passionate about documenting the diverse and often overlooked stories of Asian American, Native Hawaiian, and Pacific Islander communities. His trilogy of short films about the Asian American movement of the late 1960s—Yellow Brotherhood (2003), Pilgrimage (2007), and A Song for Ourselves (2009)—garnered over twenty awards. Today, he is proud to continue the work of his parents and former MAC directors and mentors John Esaki and Akira Boch.
"One of the unique things about JANM is that it has its own media arts center to not only document our own exhibits and activities and public programs, but to produce new works that actually are exhibited and shown in film festivals, other museums, schools, and broadcasted on public television," said Nakamura. "Our goal is to continually try to help develop other filmmakers to where they want to go off and do their own thing or really help shape the future of MAC itself."
Now, Nakamura and the MAC team are working on several exciting projects, including Third Act, a film about his father's incarceration at Manzanar as a child and his lifelong commitment to telling the camp story through film. They are also working on films about activist and artist Nobuko Miyamoto, multigenerational businesses in Little Tokyo, and a project in association with JANM's upcoming exhibition, Cruising J-Town: Nikkei Car Culture in Southern California.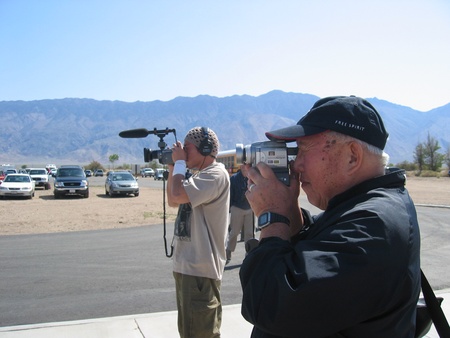 "I'm excited to collaborate with a lot of different artists out there—and not necessarily just filmmakers—in terms of new digital technology and new media. I think what's good is that we have the content and a vision and mission. But then that's very much open to interpretation and form, so I think collaborating with other artists is something that I'm excited about too," said Nakamura.