Emi Sasagawa is an award-winning Brazilian-Japanese journalist living in Vancouver. Her work has been published by a range of publications, from The Washington Post to Room. She's a graduate of The Writer's Studio at Simon Fraser University (SFU), and is currently completing an MFA in Creative Writing at the University of British Columbia.
Recently listed in CBC's 86 works of Canadian fiction to read in the first half of 2023, Emi Sasagawa's debut novel Atomweight follows nineteen-year-old Aki from her home in West Vancouver to London, England, where she is enrolled in the London School of Economics. Raised in a loving but demanding multiracial family, she has always been a good daughter and a good student. Living away from home for the first time, she makes friends, embarks on a series of relationships, and discovers a side of herself that was previously buried.
A violent incident in a bar one night triggers an unexpected response. She begins to crave more violent encounters that leave her bloodied but feeling powerful and alive. On visits back home she finds herself having to reconcile her growing independence, burgeoning sexuality and identity as an out-lesbian (at least on the other side of the Atlantic) with her family's attitudes and expectations. Atomweight will be published this May by Tidewater Press.
* * * * *
Please tell me about your family background, where you were brought up, family life, all of that.
My mom is Brazilian, and my dad is Japanese. I was born in Rio de Janeiro, just shy of a decade after they met. In 2003, my dad, who worked for a large multinational, was transferred to Panama City, uprooting the whole family. I was 13 and spoke no English nor Spanish. I was shy and socially awkward, so I had a rough time. Kids are resilient though, and so I picked things up quick. After Panama, we moved to the Netherlands.
Between being mixed and the moves, I learned a lot about navigating physical and imagined spaces. In some ways, my identity had always felt relative to the people surrounding me. I became really good at codeswitching—I adopted a "neutral" accent, I learned the right mannerisms and I obeyed the rules of adolescence. It wasn't until I moved to the UK for undergrad that I began to rethink what it meant to take up space as me.

Are there writers in your family? Have you always written?
We are a family of readers more than writers. That being said, I've always had a strong inclination to putting words to paper. Not long after learning how to read and write, I "self-published" my first collection of short stories, with the help of Windows 95 and a black and white printer. I went door to door selling copies to my neighbours. As I grew older, I came to see writing as a powerful tool for making meaning of my life and the world around me. It's my safe space.

What writers do you look to in terms of inspiration?
The list is long! Esi Edugyan, Chelene Knight, Joshua Whitehead, David Chariandy, Ivan Coyote, Alexander Chee, Ocean Vuong, Banana Yoshimoto, Ruth Ozeki. I could go on and on. These are all writers that make me read with my full body, not just my mind. These are authors whose work have changed me at a molecular level.

How did you find yourself in Vancouver?
I came to Vancouver to pursue a Master of Journalism. I'd never been to Canada before, and even though I went abroad for my undergrad, this move felt different. I was older and doing a master's was a decision, not just the natural next step when you're 18. I hadn't intended on staying this long, but something about being in Vancouver, nestled between mountains and the sea made me feel at ease. A decade later, I am grateful to still be here.

I find myself asking this question a lot, how did you deal with COVID and the accompanying lockdowns?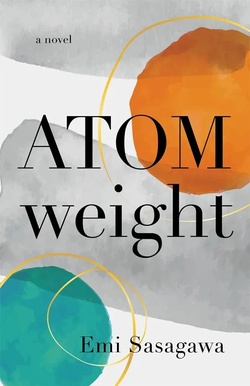 Being an introvert, I feel like I managed it better than most. COVID was a great excuse to not leave the house and dedicate more time to writing. During the week, I attended to my day job, but on weekends, I wrote nonstop. I can see how it's not healthy in the long-run, but being confined helped me make Atomweight a reality.

Your character Aki is half Japanese, half Columbian, you yourself are half Japanese, half Brazilian. Which begs the question, I suppose, how much of you is in Aki?
There is a lot of myself in Aki. We are both mixed Asian-Latina. We were both raised in loving families. We both struggled with coming out. But Aki is much more than a mirror. She's the amalgamation of everything I've ever been or wanted to be. I like to think of Aki as a gift to my younger self, an experiment in freedom and recklessness.

This idea of explosive violence as a catalyst for self-discovery, and for dealing with competing forces within Aki's life is interesting, and a bit scary! What was your impetus for writing this into the novel?
Growing up I remember feeling a lot of anger, and there was never a safe place to explore that in either culture I was raised in, especially being a girl. Anger can be a powerful vessel of discovery. In Atomweight, I wanted to take this anger to an extreme and explore the fracturing and rebuilding of the self through a violence that was physical and tangible.

Writing a novel always strikes me as such a commitment. How was the process for you?
The book began as a short story that I wrote while at the Writer's Studio at SFU, and it grew from there. Committing to writing a novel was a scary process. I had never written anything that would come close in length, and, on paper, my background in journalism had better prepared me for nonfiction. Also, the endurance necessary to see a project like this to completion wasn't something I was sure I possessed, but at the end of the day, a book is a collection of chapters, which are a collection of paragraphs, and which are a collection of sentences, and so on.

I can't help but think that writing a book like this would be emotionally wrenching. Was there anything you discovered about yourself in the process of writing it?
Recognizing that sometimes I needed a mental health break from writing the book was crucial. Some days I could do it for five hours nonstop. Other days, it felt impossible to put a word down. To have to put yourself in the shoes of your characters, when they are battling internal and external turmoil can be exhausting. On top of that, when you're queer and the story you're writing is about coming out, it can feel triggering. Thankfully, when you're writing you get to control that pace.

Was there anything that surprised you about the process?
Everything surprised me about the project. There's so much work that goes into taking an idea and turning it into a novel. You have to be patient with yourself and the work. You have to allow the story to grow with and beyond you, and you can't do that unless you dedicate time to a project.

Do you plan to write more books? Anything you can share with us?
I would like to think there are more stories left in me. Right now, I am working on my MFA thesis, which is a graphic memoir about the legacies we, as queer parents, pass down to our children. But for now, I'm just trying to soak this all in.
Read the excerpt from Atomweight— Prologue >>
*This was published on the Bulletin Geppo on April 20, 2023.