Darkness sets the stage. Costumes are prepped. Souvenirs are ready to be sold. A sold-out crowd waits anxiously for the stars of the show, Mark Kanemura and his sister Marissa, to appear. Then, as their father helps pull a fishing line to whoosh open the curtains, while a chandelier made out of cardboard boxes lifts above the stage, Kanemura appears in full costume, wearing half a white mask, a sleek black hat and cape, resembling the one and only Phantom of the opera.
There's no shortage of props, wigs, and costumes as Kanemura takes the stage in the family living room, leading in the entire production. Choreographed moves, gowns designed out of sheets and wigs created from beach towels are integrated in the mix as the family of six cheers and participates.
The scene is an example of many nights at Kanemura's family household in 'Aiea, O'ahu, while growing up. So much so that Kanemura was inspired to write a children's book entitled I Am a Rainbow! available on Tuesday, May 9, which tells his story of love and acceptance for who he is, and sets an example for our young people to be authentic and true to yourself no matter if you fit into a particular mold that others want to put you in.
"I've always loved performing and been fortunate enough to have that safe space at home to do so," said Kanemura in a Zoom call with The Hawai'i Herald from his apartment in Los Angeles, California.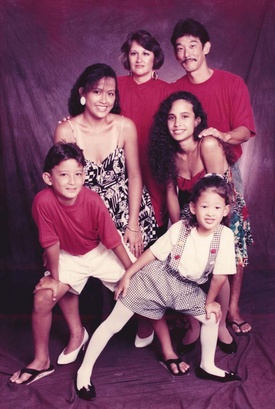 The Castle High School graduate nods the similarities of the book's opening pages, which features Kanemura and Marissa putting on extravagant shows, including him as the Phantom of the opera, while their dad, mom, and two other sisters dance and sing along, throwing confetti and feather boas everywhere.
"The book is definitely drawn from my own experience with my family on the couch, watching my sister and I put on these shows in the living room … I'd make souvenirs with the theme from the show and sell them for 25 cents, it was just so amazing and looking back, a great part of growing up."
His family equally loved the theater and arts and would go see Broadway shows at the Neal Blaisdell Center when productions would come to O'ahu, including his life-changing attendance when he saw the Phantom of the Opera at 10 years old.
"From that day on, everything shifted for me," continued Kanemura. "I was like: 'this is the world that I need to be a part of.'"
As his talents of performing on stage became a reoccurring theme at the house, Kanemura continued his love for the arts with many programs such as Hawaii Theater for Youth, 24-VII Danceforce, and Diamond Head Theatre.
In 2008 he flew out to Los Angeles when he was 24 and auditioned, gained a spot, then became a top sixth finalist of "So You Think You Can Dance" show's fourth season, which led him to a multitude of dancing opportunities including a notable spot next to Lady Gaga on tour, and many of her music videos, for four years thereafter. After touring, Kanemura was busy modeling, acting, teaching dance, choreographing at dance conventions and even helped direct visual content for Selena Gomez's tour.
In his free time, Kanemura would put on his own elaborate Instagram dance videos, filled with the same amount of confetti, wigs, props, and costume changes that he would put on in his family living room. It became therapeutic for him, especially after a break up with his partner of seven years – the ability to move and dance freely was liberating, as it's always been for him, and helped him out of a time when he was feeling particularly low.
"The song that was on repeat a lot was 'Cut to the Feeling' by Carly Rae Jepsen and it brought me a lot of joy and I just started kind of posting and sharing these little snippets of me dancing around," said Kanemura. "I loved that it brought me a lot of joy but also love that it brought a lot of other people joy."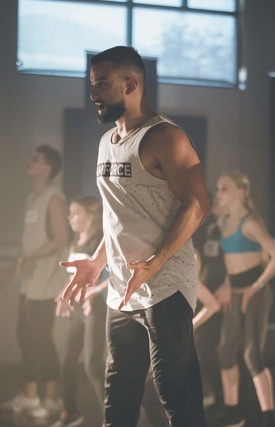 In March 2020, when COVID-19 started to morph and take over shutdowns across the world, all of Kanemura's dancing gigs and performances were put on hold. He had just signed on with Select Management Group at the time who had informed him about this possible global pandemic and uncertainty of what that may mean for the future but still asked him what his goals looked like. Among one of them was to write a children's book, as he always had a "soft spot" for teaching youth and helping them learn, yet he didn't know when that would even take shape.
Meanwhile Kanemura continued to post on his Instagram page during the pandemic, more so due to everyone being confined to their homes. He started with one dance song and invited folks to join him live. One turned into two, then three, and soon grew into a whole production number filled with wigs, costumes and choreographed dance moves.
He "went back to his roots" of throwing on a production and loving every moment that it requires; taking him back to flashbacks of "geeking out" at Diamond Head Theatre when he'd sneak around backstage and be in awe of the lighting and props and costumes. He was happy to share that with his followers who were growing by the thousands with every post, as he was "getting back to the things that excite and bring light and inspiration."
*This article was originally published in The Hawai'i Herald on May 5, 2023.