This month we present the final part of the collaborative poem + performative art piece from Bonbu Stories, this time featuring Yonsei musician Miko Shudo. We invite you to view the accompanying video and read this together with the preceding pieces from parts 1 & 2. Miko blends poetics here with reflections on a journey of challenge, pride and privilege, acceptance and self determination…enjoy.
—traci kato-kiriyama
* * * * *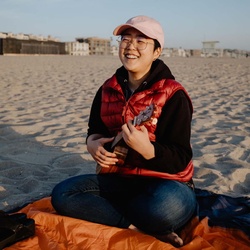 Miko Shudo is a Yonsei musician, born and raised in Thousand Oaks, CA. Miko found her love for music when her mom placed her in front of the TV at the age of 3 to watch a performance of the Three Tenors accompanied by a symphony orchestra. She is passionate about community, mental health, mindfulness, and has recently taken a love for songwriting and social dancing. Miko has performed for various Japanese American organizations and events, such as JACL San Diego, Grateful Crane Ensemble, Azuma Kotobuki Kai, JANM, Buddhist Churches of America, Cherry Blossom Festival, and the Tanabata Festival.
How I Want To Be
I remember complaining as a kid
I didn't want to be the "quiet," "polite," and "ladylike" girl
my mom
wanted me to be.
I proudly expressed my desire
to go off the beaten path and be "me."
This to my mom, wasn't very Japanese…
I laugh too loud,
and she gives me "the look."
I get upset by something that hurt me, and that makes me too sensitive…
"Don't let it bother you."
I talk or dress too boyishly…
"That's not how girls should act."
I love being Japanese American. However I had a difficult time accepting
the way my family wanted me to be Japanese, in certain ways.
And I've learned that my way of thinking comes from a place of privilege.
A place where I have more choice in how to act vs not to act.
My survival and acceptance don't depend
on me blending in, dropping my culture, or assimilating to any specific group…
At least not to the degree that it mattered for my ancestors.
Being able to focus on more than just my survival,
I acknowledge the freedom given to me,
to choose how I want to be.
*This poem was first read at the 53rd Annial Manzanar Pilgrimage in 2022 and is coyrighted by Miko Shudo.
*Bonbu Stories is an Asian American arts collaborative created in 2019. Miharu Okamura, Sydney Shiroyama, Miko Shudo, Kendall Tani, Emily Imazumi, and Vicky Zhang formed Bonbu Stories under the mentorship of PJ Hirabayashi (TaikoPeace), and Dan and Chris Kubo. Bonbu is a Buddhist term meaning "ordinary/imperfect/unenlightened being." This term carries with it a sense of compassion and acceptance for human life and our flaws, mistakes, and, ultimately, potential for growth. Bonbu Stories centers its work and creative process around this definition, believing in the power and value of vulnerability, authenticity, and interconnectedness.